Ontario Tech's Dr. Pierre Côté shares health policy research on the international stage
Makes presentations at major conferences in Japan and Switzerland
July 16, 2019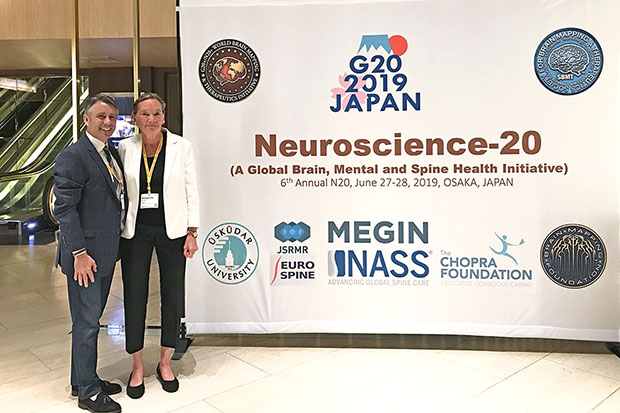 Health policy experts from around the globe have been learning plenty this summer from Ontario Tech University's Dr. Pierre Côté. A wide global audience heard the university's Canada Research Chair in Disability Prevention and Rehabilitation share his latest findings on spine pain and public health policy for pain management.
In late June, Dr. Côté spoke at the G20+/N20+ (Neuroscience-20) conference in Osaka, Japan as part of the World Brain Mapping and Therapeutics Initiative, a gathering of innovators, business leaders and scientists to propose solutions to brain and spine disease. 
"The purpose of this conference was to develop a series of recommendations for the G20 leadership to invest in brain mapping and the prevention and rehabilitation of spine disability," says Dr. Côté, a Professor with Ontario Tech's Faculty of Health Sciences.  "I had the privilege to give a presentation on evidence-based prevention and rehabilitation. Our recommendations were delivered by our Japanese hosts to the G20 delegations."
After the G20 presentation, Dr. Côté flew to Geneva, Switzerland to co-chair the development of the first Eurospine Graduate Diploma on the conservative management of spine pain and disability. 
"The purpose of this new European diploma is to standardize the care of spinal pain and disability in Europe," says Dr. Côté, who is also Director of the Centre for Disability Prevention and Rehabilitation (CDPR), a research partnership between Ontario Tech and the Canadian Memorial Chiropractic College. "More than 30 health-care providers from 10 countries attended this first-ever one-week course."
Also in Geneva, Dr. Côté attended the World Health Organization's (WHO) second Rehabilitation 2030 meeting. Rehabilitation 2030 represents WHO's pledge to support governments to enhance rehabilitation services by incorporating rehabilitation into universal health coverage around the globe.
"The rate of severely disabling conditions requiring rehabilitation has skyrocketed internationally over the past 15 years," says Dr. Côté. "Rehabilitation 2030 commits to developing improvements in low- and middle-income countries to service delivery, financing, training and research on rehabilitation, as well as assistive technologies like wheelchairs, eyeglasses and hearing aids."
Active CDPR research projects connected to Rehabilitation 2030:
Assessing disability on an international scale.
Studying the burden of mental health problems among university students.
Developing minor injury protocol.
Creating workplace disability prevention programs.
---
Media contact
Bryan Oliver
Communications and Marketing
Ontario Tech University
905.721.8668 ext. 6709
289.928.3653
bryan.oliver@uoit.ca