Sign wave discovered at Ontario Tech University
Campus community and visitors noticing university's transition to new brand
July 26, 2019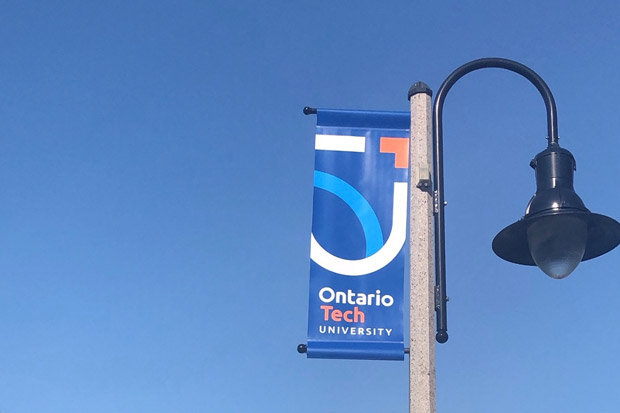 Signs of change or a change of signs. Whatever you want to call it, signs of Ontario Tech University's new brand and logo are quickly becoming noticeable on campus this summer.
Ontario Tech unveiled plans in March 2019 for implementation of a new university brand. Within weeks of the announcement, the university's website shifted to Ontario Tech's new colours, font and logo. During June and July, the process began to remove dated signage and prepare campus spaces for the new brand.
During the week of July 22, the first physical evidence of the new logo appeared with updated external signage on buildings at the university's north Oshawa location and the placement of 140 street banners along main roads at the downtown Oshawa location.
In the coming months, Ontario Tech's new brand emerge in many other campus areas, including:
58 new street banners along Conlin Road and Simcoe Street at the north Oshawa location.
Updated entrance signage in downtown Oshawa at the Education Building, Bordessa Hall, 61 Charles Street, the Regent Theatre, and the TeachingCity Hub (1 Mary Street North).
Updated penthouse wrap atop the Business and Information Technology Building and the Software and Informatics Research Centre.
Updated signs will be seen at the Clean Energy Research Laboratory, Campus Corners, campus-operated residences along Simcoe Street and the the gateway on the southwest corner of Conlin Road and Simcoe Street.
The Campus Recreation and Wellness Centre, and Campus Ice Centre will also be seeing changes inside and out.
Updated Ontario Tech internal building signage has begun to appear and will continue to be installed throughout the coming academic year.
Gallery