Ontario Tech e-bike project exemplifies Mitacs' support of work-integrated student learning
Hundreds of graduate students and postdocs gaining internships through academia-industry partnership
October 3, 2019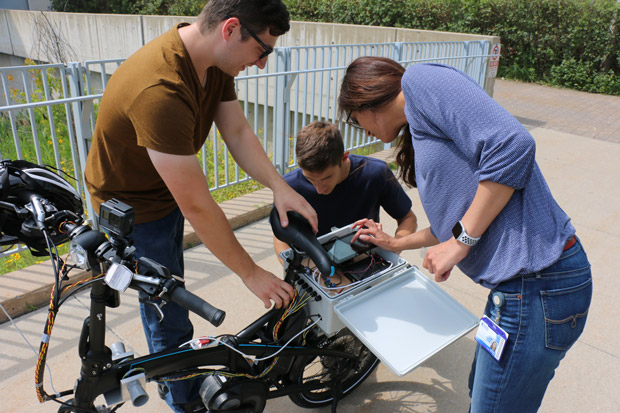 Work-integrated learning opportunities are a cornerstone of the academic journey for Ontario Tech University students. From internships to co-ops to capstones and global exchanges, more than 90 per cent of Ontario Tech students complete some form of practicum as part of their degrees.
One of the ways the university delivers on these outstanding learning opportunities is through a collaborative partnership with Mitacs, a Canadian non-profit research organization that helps connect academia with industry. University students emerge with training placements in fields related to industrial and social innovation.
As an Associated Academic Partner of Mitacs, Ontario Tech has provided hundreds of students with opportunities to take part in various Mitacs programs over the past decade, including:
Mitacs Accelerate These connect graduate students and postdoctoral fellows with organizations seeking their expertise. Faculty members supervise the students. Interns gain valuable research and career experience, while faculty members strengthen relationships with the university's new non-academic partners.
Mitacs Elevate postdoctoral fellowships. These include a 12-to-24-month research project with a partner organization and a customized research management-training component. Elevate fellows progress through the program in a cohort, giving them cross-disciplinary networking and peer-learning opportunities that they might not have otherwise in their careers.
Mitacs Globalink opportunities bring international undergraduates to Ontario Tech for summer research internships with faculty, connecting the university as a destination for the world's brightest researchers. As well, Globalink Research Awards send Ontario Tech students (upper-year undergraduates, graduate students and postdoctoral students) to conduct 12-to-24-month research projects at universities overseas.
Mitacs Training workshops (typically two days) provide free professional develop and skills training to graduate students and postdoctoral fellows. Students learn from leading business experts and increase their employability. Employers gain access to top talent about to emerge from the university environment.
Mitacs matches federal funding granted to graduate students and postdoctoral fellows.  The estimated value of Mitacs' connection to Ontario Tech over the past decade is more than $2.3 million.
Mitacs Accelerate Fund spotlight
Electric-assist bicycles (e-bikes) could be an integral part of future urban mobility. Nearly half of all car trips are under five kilometres, leading to suggestions that e-bikes may be a viable alternative method of transportation for short jaunts in local communities.
A collaboration between Ontario Tech University and General Motors Canada is analyzing the dynamics of e-bikes and the factors that affect the interaction of cyclists with other cars when they share the road. The outcome of this project will provide recommendations to minimize the risk of e-bike accidents and user injuries. 
Project participants:
Dr. Martin Agelin-Chaab (Mitacs grant principal investigator and students' faculty supervisor) – Associate Professor, Faculty of Engineering and Applied Science (FEAS)
Dr. Shabnam Pejhan (project lead) – Postdoctoral Fellow, FEAS
Victor Mazzuocco – Research and Development Engineer, ACE 
Michael Lamanna – Third-year Mechanical Engineering student and member of the ACE Operations and Engineering Support team, FEAS​
Gallery
---
Media contact
Bryan Oliver
Communications and Marketing
Ontario Tech University
905.721.8668 ext. 6709
289.928.3653
bryan.oliver@ontariotechu.ca