Ontario Tech No. 1 in cross-sector research among Canadian undergraduate universities
National report showcases Ontario Tech's leadership in research partnerships and intensity
November 21, 2019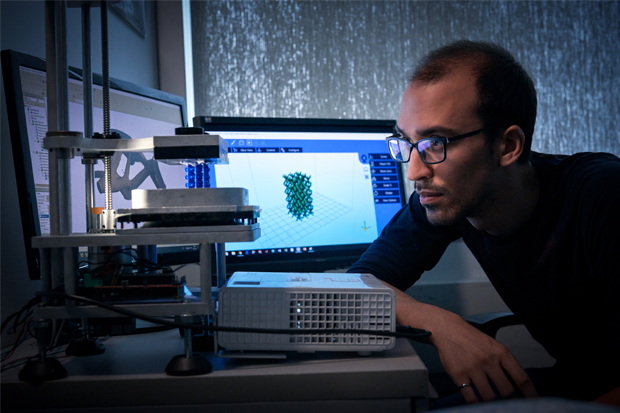 Ontario Tech University's commitment to research excellence and to uncovering innovative solutions for our partners' most-pressing problems is receiving recognition on the national stage.
Research Infosource Inc., Canada's leader in the measurement of global competitiveness in the knowledge economy, has released its annual report on Canada's Innovation Leaders. The report puts Ontario Tech at the top of the pack among primarily undergraduate universities for grants involving corporate and industry partners while also summarizing national university rankings for research.
 Not only is Ontario Tech ranked No. 1 in the cross-sector research category, its grant numbers are 61 per cent higher than the next-closest university. In terms of research intensity as measured on a per-faculty member basis compared to all Canadian universities, Ontario Tech ranks No. 2 after the University of Waterloo and ahead of the University of British Columbia and the University of Toronto in private-sector research contracts.
 During the five-year period between 2014 and 2018, Ontario Tech received 155 partnership grants with Canadian companies through one or more of three federal agencies: Canadian Institutes of Health Research, the Natural Sciences and Engineering Research Council of Canada, and the Social Sciences and Humanities Research Council.
"Ontario Tech University is proud to be a vital hub where impactful research improves lives and changes communities. Being ranked No. 1 for cross-sector research grants and No. 2 in Canada on a per-faculty member basis shows that Ontario Tech punches well above its weight class. It's a tremendous endorsement of our rapidly expanding and dynamic research portfolio. It underscores Ontario Tech's unique strength in forging valuable partnerships with industry, community and government in advancing its research agenda."
-Dr. Les Jacobs, Vice-President, Research and Innovation, Ontario Tech University.