Ontario Tech University's new basketball teams energize campus spirit
Enthusiastic crowd and star-power cheers on new Ridgebacks teams at inaugural home games
November 3, 2019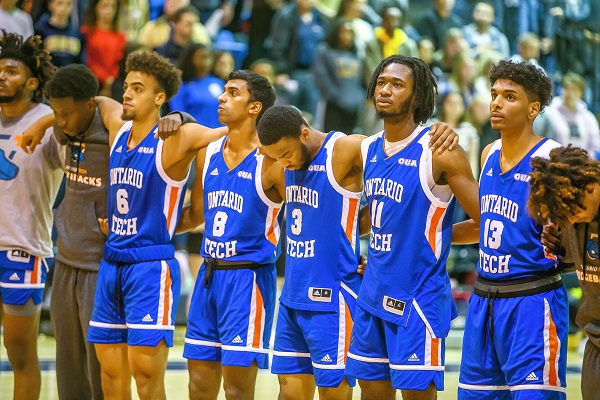 A new era of campus excitement at Ontario Tech University began November 3 with the first-ever regular season Ridgebacks basketball home games.
Playing to an enthusiastic crowd of more than 900 fans including students, faculty, staff and community members, the women's and men's games against the Queen's Gaels culminated the launch of the first new Ontario university basketball program in five years.
Distinguished guests from Canada's basketball community, including TSN personality and Ontario Tech alumna Kate Beirness joined fans from the university and the local community for the pre-game ceremony and opening tip-off.
Fans received a free commemorative Ontario Tech home opener t-shirt. Ontario Tech's Athletics department organized in-game activities while the Campus Recreation and Wellness Centre hosted a Fan Zone where spectators could win prizes and learn more about programs available across the campus community.
Follow the Ridgebacks women's and men's basketball teams all season long at goridgebacks.com.
Quotes
"As a long-time basketball player and a dedicated fan of the game, it's so exciting to see university hoops become an official Ridgebacks sport. The arrival of basketball at my alma mater coincides with the sport's soaring popularity in Canada. I'm thrilled to be back on campus to cheer on Ontario Tech at the inaugural Ridgebacks home game. Courtside is where current students and alumni will want to be all season and in the years ahead. Let's go Ridgebacks!"
- Kate Beirness, Ontario Tech University graduate (class of 2009) and game host of Raptors Basketball on TSN
"One of Ontario Tech University's key priorities is being a place where the campus community comes to work, teach and study, and also stays to socialize and have fun. Our new varsity basketball program is another way of accomplishing this goal. Establishing varsity basketball is one of my priorities in creating a sticky campus, and I am so excited to watch this chapter in the university's history unfold. University sports create a fantastic atmosphere for our students and members of the Durham community looking for inexpensive, entertaining and interactive outings. Cheering on the Ridgebacks is where it's at."
- Dr. Steven Murphy, President and Vice-Chancellor, Ontario Tech University
"After years of dreaming and planning, it's awesome that basketball has finally arrived at Ontario Tech University. The program will provide even more opportunities for talented student-athletes to proudly represent Ontario Tech on the athletics and academic side. As a regular campus destination for fun excitement, Ridgebacks games play an integral role in uniting our students, faculty, staff and community members."
- Scott Barker, Director, Athletics and Recreation, Ontario Tech University