Ontario Tech joins National Day of Remembrance and Action on Violence against Women
Memorial event set for Friday, December 6
December 3, 2019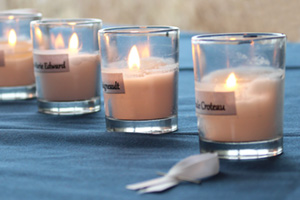 The Faculty of Engineering and Applied Science in partnership with the Women in Engineering Club invites the campus community and the local community to a memorial ceremony to remember the 14 women who were murdered in an act of gender-based violence at École Polytechnique de Montréal on December 6, 1989.
On Friday, December 6, Ontario Tech University will hold a short ceremony to recognize the National Day of Remembrance and Action on Violence Against Women. The ceremony will take place in the Automotive Centre of Excellence, first-floor Atrium (which connects to the OPG Engineering Building) from 11:15 to 11:45 a.m. and will include a candle lighting, the reading of the victims' names and a moment of silence.
This year the ceremony will also focus on the stories of 31 engineering alumna from across Canada who graduated within three years of the 1989 tragedy, and whose careers exemplify the value that women bring to the engineering profession and to society.
As the campus comes together to honor this national tragedy, we would like attendees to reflect on the violence that remains a daily reality for girls and women around the world. We encourage guests to share the actions they are taking in their own communities and in their own lives to question, call out, and speak up against acts of gender-based violence; by writing down a pledge and attaching it to the tree of action. 
Fourteen not forgotten ... 30 years later
Geneviève Bergeron, Civil Engineering student
Hélène Colgan, Mechanical Engineering student
Nathalie Croteau, Mechanical Engineering student
Barbara Daigneault, Mechanical Engineering student
Anne-Marie Edward, Chemical Engineering student
Maud Haviernick, Materials Engineering student
Maryse Laganière, budget clerk in the École Polytechnique's Finance department
Maryse Leclair, Materials Engineering student
Anne-Marie Lemay, Mechanical Engineering student
Sonia Pelletier, Mechanical Engineering student
Michèle Richard, Materials Engineering student
Annie St-Arneault, Mechanical Engineering student
Annie Turcotte, Materials Engineering student
Barbara Klucznik-Widajewicz, Nursing student
Media contact
Samantha Munro
Communications Co-ordinator
Faculty of Engineering and Applied Science
905.721.8668 ext. 3568
samantha.munro@ontariotechu.ca