Ontario Tech helps STEM students acquire skills to change the world
University celebrates success of its 72-hour robot-building showdown
January 10, 2020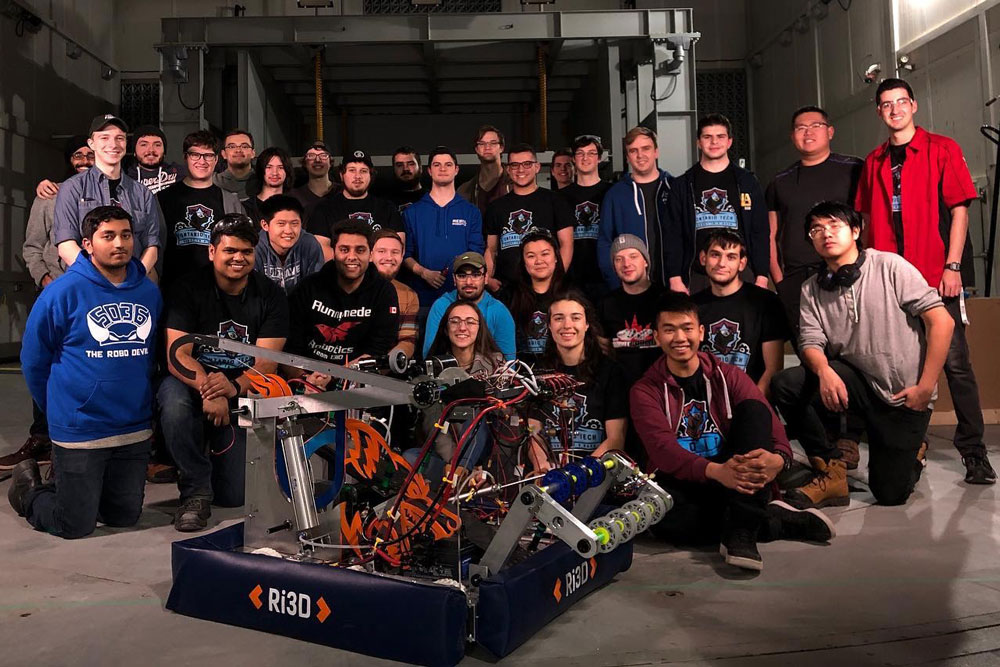 Three days in January. Fifty-five Ontario Tech students. Three teams. The challenge: build a droid-style robot from scratch and make it capable of completing a specific series of tasks.
In the closing days of the recent holiday break, Ontario Tech University Faculty of Engineering and Applied Science students showcased social and science, technology, engineering and math (STEM) skills in the 2020 Robot in 3 Days (Ri3D) international challenge. The Ontario Tech Ri3D team was one of three across the province taking part in the marathon robot-building competition.
Teams also enjoyed special access to Ontario Tech's ACE (Automotive Centre of Excellence), 'The World's Most Extreme Classroom', to work on their robots and demonstrate their capacity for developing ethical applications of technology in such areas as 3D modelling, circuit design, programming and manufacturing.
Each team's completed robot was required to autonomously:
Drive around collecting balls and shoot them into goals.
Clasp and pull itself up onto a bar.
Rotate a spinning wheel a specific number of times or to a specific colour.
Ri3D recap videos:
University students also inspire future students
Together with the Ontario Tech Ri3D team, some 60 Durham Region high school students watched the 2020 FIRST® Robotics Competition (FRC) kickoff event launch on January 4 via livestream to learn about this year's game challenge. Whereas the Ontario Tech students had just three days for the competition, the high school students will take their own shot at robot-building over the next six weeks.
The high school students were able to observe their older peers in action throughout Ri3D and learn valuable techniques they can apply to their own robot building. The future post-secondary students will get to present their creations in March at the Ontario District FRC showdown at the Campus Recreation and Wellness Centre (one of 11 regional events across Ontario).
'FIRST' stands for For Inspiration and Recognition of Science and Technology.
Ri3D backgrounder
FIRST alumni from around the world, who missed competing with their FRC teams after graduating high school, founded Ri3D as a grassroots initiative. The Ri3D project started as an outreach program, with the main goal of inspiring an audience of high school FRC teams to build their own robot for FIRST competition. They took the challenge of creating a robot in three months and shortened it down to three days to showcase the problems a rookie team may run into, how to solve those problems, as well as navigate the nuances of team management and logistics. The program quickly evolved into a student learning opportunity for high school and undergraduate students alike.
Gallery