REDress Campus Campaign to shine spotlight on MMIWG2S crisis – February 10 to 14
February 7, 2020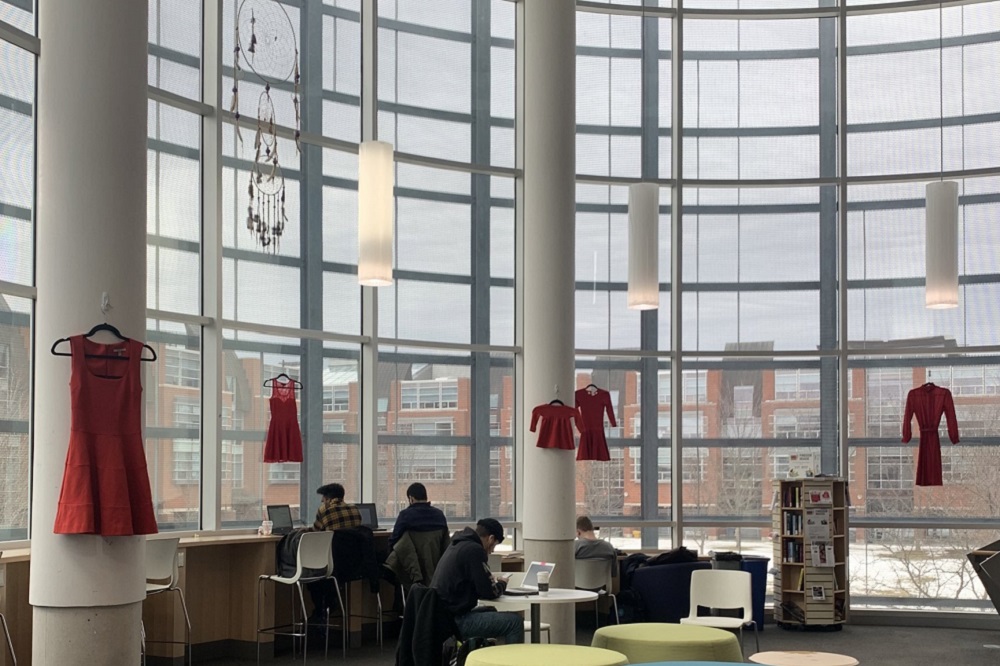 Violence is a daily reality for Indigenous women, girls and two-spirit people in Canada.
According to Statistics Canada:
While Indigenous women make up four per cent of all women in Canada, they account for 24 per cent of female murder victims.
Between 2001 and 2015, homicide rates for Indigenous women were nearly six times higher than for non-Indigenous women.
Indigenous women experience violent crime nearly three times more often than the national average.
From Monday, February 10 to Friday, February 14, the REDress Campus Campaign at Ontario Tech University and Durham College will raise awareness, generate conversation, inspire action and honour those who have been touched by the historic and ongoing Missing and Murdered Indigenous Women, Girls and Two-Spirit People (MMIWG2S) crisis.
The campaign is inspired by Métis multidisciplinary artist Jamie Black's The REDress Project, an aesthetic response to the MMIWG2S crisis (now a permanent exhibit in the Canadian Museum for Human Rights). Much like Black's project, the red dresses installed across DC's and Ontario Tech's shared campus in north Oshawa, Ontario Tech's downtown Oshawa location, and DC's Whitby campus and Pickering learning site, will serve as a visual reminder of the staggering number of MMIWG2S  people who are no longer with us.
Ontario Tech's Indigenous Education and Cultural Services and DC's First Peoples Indigenous Centre will lead the campaign, partnered with the university's Campus Libraries, the Mississaugas of Scugog Island First Nation, Carea, The Nourish and Develop Foundation, Enaahtig Healing Lodge & Learning Centre, DC Students Inc. Outreach Services, and individual community members.
All events are free and open to everyone:
Monday, February 10:
Opening ceremony and unveiling of red dress campus installation

11:45 a.m. to 1 p.m.
CFCE, Atrium

Guest speaker Suzanne Smoke, Ginew Kwe, Golden Eagle Woman, sits with the Bear Clan, Medicine Clan from Alderville First Nation, Mississauga's of Rice Lake. She is a Women's Traditional Dancer, Speaker, and Facilitator. She is also an Anishinaabe Water Walker and shares teachings on the importance of our sacred water, which is Nbiish in Anishinaabe language.
Tuesday, February 11:
Violence Against Women, Violence Against the Land

noon to 1:30 p.m.
CFCE, First Peoples Indigenous Centre, Room 141

Kim Wheatley, an Anishinaabe Ojibway Grandmother from Shawanaga First Nation, will speak about the connection between violence against women and violence against the land that is causing climate change.
Wednesday, February 12:
Arts Open House

9 a.m. to 4 p.m.
CFCE, First Peoples Indigenous Centre, Room 141

Make your own commemorative tile necklace, and watch one of the documentaries and keynote speeches shown in a viewing marathon throughout the day.

Red dress beading workshop

11 a.m. to 1 p.m
CFCE, First Peoples Indigenous Centre, Room 141

Learn the art of beadwork, one of the most celebrated art forms for many First Nation, Métis and Inuit peoples, from local Indigenous artist Meaghan Morris. In this workshop, participants will bead a pin using a red dress stencil.
Thursday, February 13:
Art as Action and Protest: Honouring MMIWG2S

11 a.m. to 2 p.m.
CFCE, Global Classroom, Room 145

In this special Global Class conversation, Karyn Recollet and Jaime Black will speak about their art and work in connection with the crisis of MMIWG2S and lead a conversation with students and other participants. Meagan Muscat, a Métis work study student with Ontario Tech's Indigenous Education and Cultural Services, will moderate the discussion. This event will also feature a Big Drum performance by members of the Mississaugas of Scugog Island First Nation.

Karyn Recollet, Associate Professor at the University of Toronto's Women & Gender Studies Institute, is a Cree woman originally from the Sturgeon Lake First Nation in Saskatchewan. Her research and writing explores Indigenous futurism as well as Indigenous performance, hip-hop culture, and Indigenous hip hop feminism, with a particular focus on new Indigeneities produced in urban hub spaces as they shape solidarity movements and social activism.
Jaime Black is a Métis multidisciplinary artist based in Winnipeg, Manitoba, and creator of The REDress Project. She studied English Literature at the University of Manitoba and has an Education degree from The Ontario Institute of Studies in Education. She is currently a mentee with Mentoring Artists for Womens Art. In her artwork, she attempts to create a dialogue around social and political events and issues, through provocation or creating space for reflection. She is particularly interested in feminism and Indigenous social justice, and the possibilities for articulating linkages between and around these movements.
Friday, February 14:
Women's Memorial March

noon to 12:30 p.m.
Meet at the Campus Library, Fireside Reading Room, second floor

This sister event of the 29th-annual February 14th Women's Memorial March will provide an opportunity for the campus community to come together to grieve the loss of beloved sisters, remember the women who are still missing, and dedicate themselves to justice.

The march will begin at the Campus Library's Fireside Reading Room and proceed through a number of Ontario Tech and DC buildings. The procession will include singing and drumming. Participants are asked to wear red.

Closing ceremony and feast

12:30 to 2 p.m.
CFCE, Global Classroom, Room 145
For more information, contact Carol Ducharme, Indigenous Programming Specialist, Ontario Tech University, at 905.721.8668 ext. 6795, or visit the Eventbrite page.