Black History Month celebration highlighted by esteemed South African and American researchers' panel discussion
March 10, 2020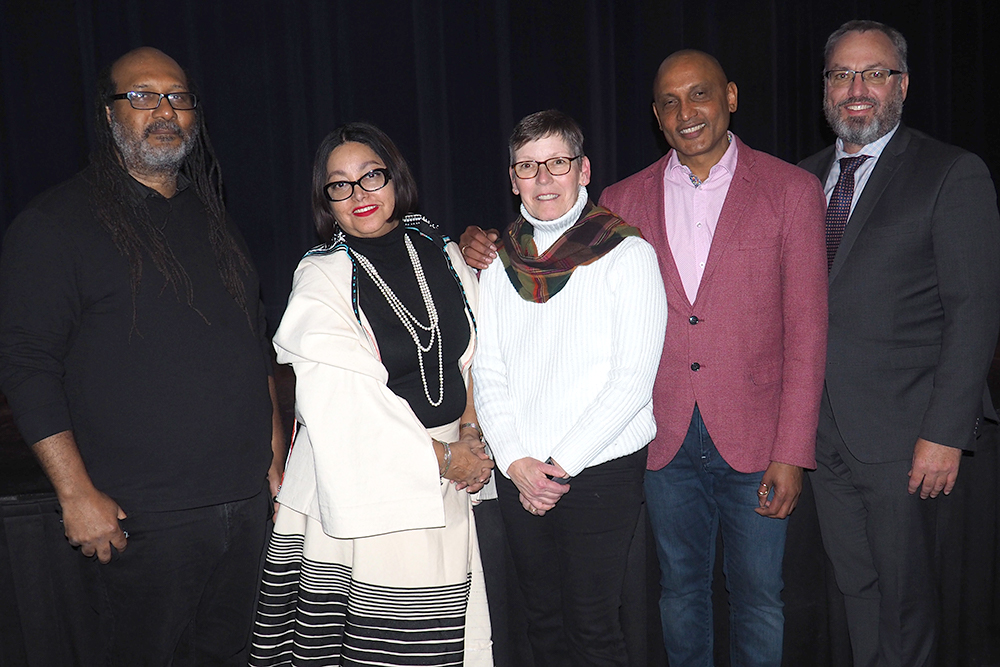 A thought-provoking intellectual discussion about Black existentialism and the politics of identity captivated a Regent Theatre audience February 27 as Ontario Tech University marked Black History Month.
The President's Equity Taskforce at Ontario Tech welcomed two leading global scholars to speak at this year's celebration event: Dr. Rozena Maart, Director for the Centre for Critical Research on Race and Identity, University of KwaZulu-Natal in Durban, South Africa; and Dr. Lewis Gordon, Professor of Africana Philosophy, University of Connecticut in Mansfield, Connecticut.
Both philosophers spoke about issues of truth and perceptions of what it means to be Black in the 21st century.
Dr. Maart grew up in South Africa's apartheid system of institutionalized racial segregation, a divide-and-conquer regime with lasting and painful psychological societal impact. She relocated to Canada in 1980. Apartheid ended in the 1990s, but it took until 2011 for her to return.
"Black identity, as far as I'm concerned in terms of my background, history and culture, doesn't have to mean that you have to trace your history of enslavement," says Dr. Maart. "But in my case, I don't have a choice.  What Black consciousness meant at the time was an awareness of the history of our identities in South Africa. Being able to call yourself Black as a political act recognizes your history, and also recognizes the word 'Black' was once taken away from you. It recognizes the fact that 'coloured' was used as a word as part of a classification to oppress and colonize people in South Africa."
"I don't often speak about Black History Month because I speak a lot throughout the year: for me Black history is not a part-time affair," says Dr. Gordon. "Yet, from birth to grave, many are indoctrinated on how to avoid talking about Black history. To talk about these things is to bring up the dirty laundry of what we call Euro-modern society, and Euro-modern society would like to imagine itself in a better light than it is."
Dutch colonialism in South Africa dates back to the mid-17th century.
"Slaves were given surnames based on their month of enslavement," says Dr. Maart. "My name, from my ancestors, means 'March'. These questions of identity and stolen identities have deeply influenced my thinking and my writing as an author. Existentialism means taking responsibility for one's freedom."
Dr. Gordon says we live in trying times, where humans also need to be aware that we belong not only to the past, but also to the future.
"It is important to reinforce our relationship with the truth, and our relationship with others by making things visible and reinforcing human dignity," says Dr. Gordon. "Africa wasn't exploited because it was poor, it was exploited because it was rich. Generations were racialized, disempowered and made voiceless. Humanity is accountable to others: ancestors, today's audience and the descendants to come. It's imperative we speak the sacred truth, to ensure that humans are never again turned into 'ghosts', erased as a source of knowledge."
"We are delighted to have been able to bring such leading academic scholars as Rozena Maart and Lewis Gordon to our campus to share their exemplary analysis and insights," says Dr. Wesley Crichlow, Associate Dean (Equity), Faculty of Social Science and Humanities and Chair of the President's Equity Taskforce at Ontario Tech. "Open conversations help build societal understanding, cultural relationships and mutual respect. Black History Month is a vital component of Ontario Tech's commitment to its core values of equity, diversity and inclusion."
The discussion was preceded by a symbolic Indigenous smudging ceremony led by Ontario Tech's Traditional Knowledge Keeper Rick Bourque, followed by two dancers who provided a dazzling display of traditional Caribbean and African dance. The distinguished panelists and Regent Theatre attendees were welcomed by Ontario Tech President and Vice-Chancellor Dr. Steven Murphy in his opening remarks.
Gallery