Premier Doug Ford experiences one-of-a kind testing facility at Ontario Tech University
The latest addition will make it the only facility on the planet capable of innovative research for energy-efficient product development and reduction of carbon emissions
July 30, 2020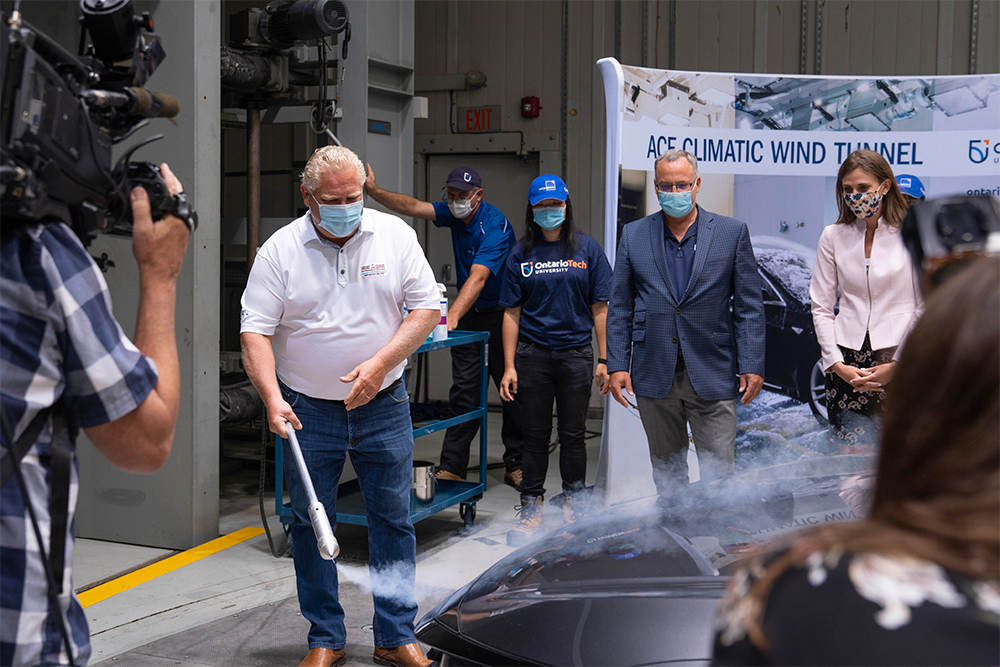 OSHAWA, ONTARIO - On July 30 Ontario Tech University welcomed Ontario Premier Doug Ford to campus for a tour of the university's one-of-a-kind Automotive Centre of Excellence (ACE) facility. Despite having to wear masks and maintain physical distance, the Premier met with President Murphy and students to learn how ACE supports innovation within Durham Region, the province and beyond.
Lorne Coe, MPP Whitby and Lindsey Park, MPP Durham, joined Premier Ford. While in ACE, they experienced one of the world's largest climatic wind tunnels, a test chamber where researchers can create wind speeds greater than 240 kilometres per hour and replicate weather conditions ranging from -40 to +60 degrees Celsius. He also learned more about ACE's new moving ground plane (MGP), which is currently under construction. This 'rolling road' will allow tethered vehicles to travel at highway speeds in the wind tunnel. The MGP combined with the wind tunnel will create the only facility of its kind in the world and will foster unique research and product development that will allow industry and researchers to create new energy-efficient products and reduce carbon emissions.
Ontario Tech University is anchoring a robust new hub of innovation and discovery in the eastern Greater Toronto Area. The university's ACE facility is helping Oshawa and Durham Region transition from a traditional automotive manufacturing base to one focused on engineering research and the promise of rapidly evolving advanced technologies like artificial intelligence, autonomous vehicles, robotics, cybersecurity and more.
ACE is also the site of Durham Region's connection to the Ontario Autonomous Vehicle Innovation Network (AVIN).
"On behalf of Ontario Tech, I'd like to thank Premier Ford and the Province of Ontario for their continued support of our university and our students. ACE is one of many gems at our university. This facility accelerates economic growth, regional development and social innovation by helping industry, community, government and academic partners be more effective by bringing them together with students and researchers to uncover innovative solutions for our partners' most pressing problems."
-Dr. Steven Murphy, President and Vice-Chancellor, Ontario Tech University
Media contact
Melissa Levy
Communications and Marketing
Ontario Tech University
289.928.0268 (mobile)
melissa.levy@ontariotechu.ca
Gallery
---
About Ontario Tech University
A modern, forwarding-thinking university, Ontario Tech advances the discovery and application of knowledge to accelerate economic growth, regional development and social innovation. We inspire and equip our students and our graduates to make a positive impact in a tech-focused world. For us, it's not only about developing the next tech breakthrough. Understanding and integrating the social and ethical implications of technology differentiates us as university. Learn more at ontariotechu.ca.