Ontario Tech students brainstorm with City of Oshawa on downtown revitalization ideas
Students worked together virtually on the Reanimation of Downtown Oshawa Project
September 15, 2020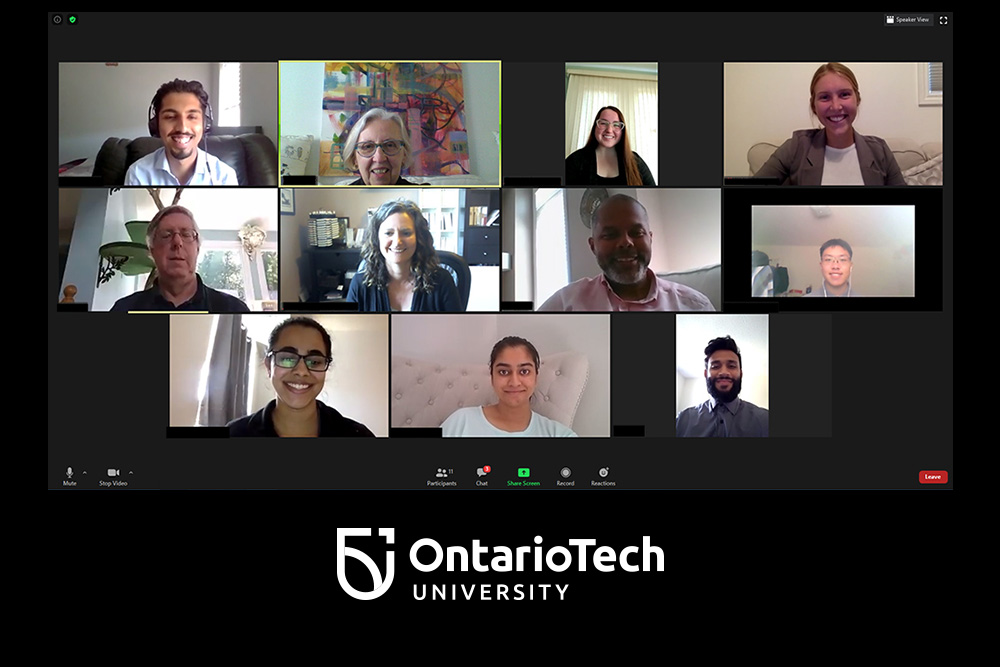 The rapid growth of suburbs over the past half-century has put enormous pressure on downtown cores in many Ontario communities. Shifting population patterns have created substantial issues of economic health and overall livability for residents, businesses and visitors in mid-size cities, and the City of Oshawa is no exception.
In an innovative effort to generate modern ideas for urban solutions over the coming years, the City of Oshawa is collaborating with Ontario Tech University, giving students an opportunity to apply their knowledge and skills and to advance the City of Oshawa's agenda for downtown economic and cultural development.
Through TeachingCity Oshawa and the university's Brilliant Catalyst student entrepreneurship and innovation platform, the Reanimation of Downtown Oshawa Project identified 12 specific ideas within three strategic considerations:
Beautification
Reputation and safety
Increasing downtown visitation
Under the Brilliant Solutions program, six Ontario Tech students (four from the Faculty of Social Science and Humanities (FSSH) and two from the Faculty of Business and Information Technology (FBIT)), ranked the dozen ideas in terms of how long the project would take, its cost, the effort involved and the expected impact.
Online research by the student team included reviewing the initiatives of 10 other Ontario municipalities, creating a questionnaire and speaking to a cross-section of 11 local stakeholders to understand their perspectives on Oshawa's downtown challenges. The ideas will be considered and evaluated by City staff, and the Oshawa Mayor's Taskforce on Economic Recovery for possible implementation.
TeachingCity Oshawa is the City of Oshawa's partnership with post-secondary institutions and researchers to address urban issues. Ontario Tech's Brilliant Catalyst provides support for student entrepreneurs and experiential learning opportunities through its Brilliant Solutions Program. 
Quotes
"This project was a perfect example of how students are becoming engaged through TeachingCity Oshawa to learn about local community issues, and help suggest solutions to those issues."
-Julie MacIsaac, Director of Innovation & Transformation, City of Oshawa
"COVID-19 has brought forward a unique set of challenges impacting local communities. Through this Brilliant Solutions project, Ontario Tech students and faculty members worked with the City of Oshawa and the Downtown Oshawa Business Improvement Area, providing substantial recommendations that will assist policymakers in their economic recovery process. Ontario Tech and the Brilliant Catalyst will continue facilitating similar experiences to support our communities across the region, province and Canada."
-Osman Hamid, Director of Creativity and Entrepreneurship, Brilliant Catalyst, Ontario Tech University
"I had the opportunity to work with a fantastic team of fellow students. Within a few short weeks, we collected data from various municipalities across Canada and reached out to community stakeholders, all before critically evaluating the options available to deliver as recommendations. Moving forward, I hope that the City of Oshawa is able to find value in our research and recommendations to revitalize the downtown core."
-Catherine Duncan, Political Science student (third year)
"Working on a one-month project with other students to have an impact on reanimating Downtown Oshawa, and being able to work in a changing environment while adapting together with co-workers to create the best possible outcome was a great learning experience."
-Navleen Sandhu, Criminology and Justice Studies student (fourth year)
Ontario Tech University student team
Catherine Duncan, Political Science (FSSH), third year
Christopher Ing, Networking and Information Technology Security (FBIT), second year
Caitlin Morgan, Criminology and Justice Studies (FSSH), fourth year
Chaveesnan Nagulesvaran, Finance (FBIT), fourth year
Syed Rizvi, Political Science (FSSH), third year
Navleen Sandhu, Criminology and Justice Studies (FSSH), fourth year
City of Oshawa supervisors
Julie MacIsaac, Director, Innovation & Transformation
Kyle Benham, Director, Economic Development Services
Laraib Arshad, Business Intelligence Co-ordinator
Sue Lupton, Downtown & Business Development Manager
Ontario Tech University supervisors
Peter Stoett, Dean, Faculty of Social Science and Humanities
Amanda McEachern Gaudet, Assistant Teaching Professor (Experiential Learning), Faculty of Business and Information Technology