Ontario Tech University – a collaborative space for business and industry partners
University once again enhancing City of Oshawa's access to thriving pipeline of local student talent
October 7, 2020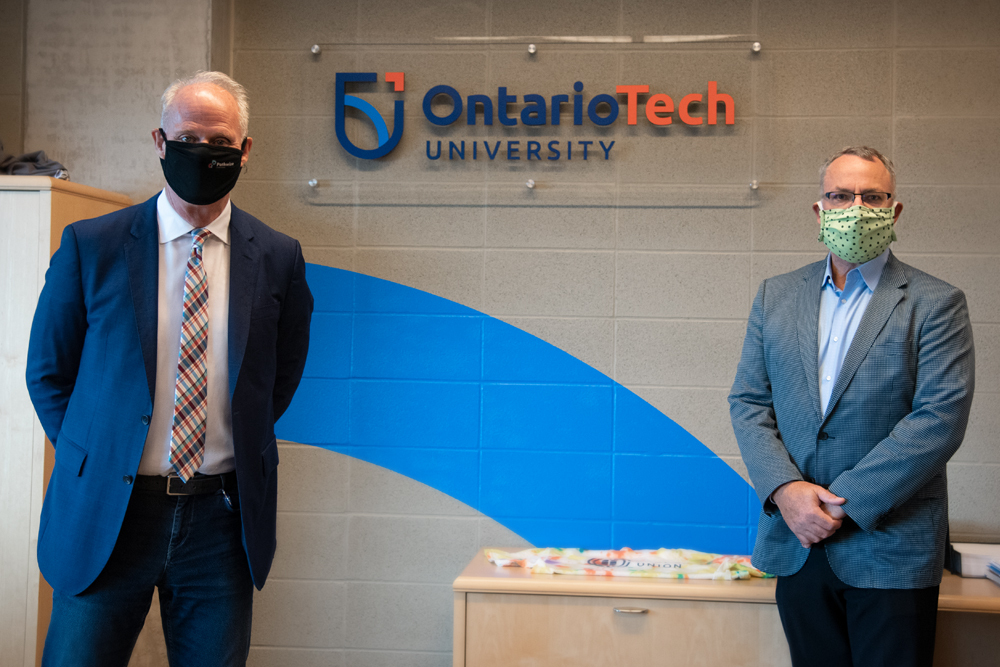 Ontario Tech University's newest north Oshawa location building will become the university's latest hub for collaboration and experiential learning opportunities and a key addition to the university's dynamic entrepreneurial environment.
Once again, Ontario Tech focuses on interactions with business and industry partners. The experiential learning hub will be a building like no other on campus; dedicated to the student experience. It will also be home to Ontario Tech's Faculty of Health Sciences and will create opportunities for undergraduate and graduate students to participate in enriched learning and mentorship. The expansion of simulated and experiential learning across all health disciplines provides a unique offering to students, the kind of offering that industry is demanding so that graduates can work seamlessly as part of an interdisciplinary team. A high-tech simulation lab will provide access to the latest advances in augmented and virtual reality.
Ontario Tech students need one location to connect easily with to services and resources including mental health supports, financial support, study spaces, peer tutoring, and the Ontario Tech Student Union.
Encompassing the latest in learning technologies and environmental sustainability features, that Ontario Tech is known for, the hub will play a central role in the development and maturation of the whole student. It will also reinforce the university's commitment to a 'sticky campus', defining an experience that is accessible, equitable, diverse and inclusive.
For more information and live construction updates from Ontario Tech University, visit the university's New Building Construction webpage (ca/about/campus-buildings/north-oshawa/new-building-construction.php)
Oshawa businesses are encouraged to contact Oshawa Economic Development Services at business@oshawa.ca. For more information on Economic Development Services, visit ca/business and follow @InvestOshawa on Twitter.
Quotes
"The Oshawa community is excited to see Ontario Tech University's new building well under construction in the heart of the campus. The advanced learning hub will support the future growth of the university and provide much needed collaborative spaces, while facilitating entrepreneurship and attracting talent, start-ups and industry partnerships within our great city."
-Mayor Dan Carter, City of Oshawa
"Ontario Tech University is proud of its partnership legacy with the City of Oshawa, which has expanded in recent years to include innovative urban solution and student experiential learning initiatives like TeachingCity and City Idea Lab. The university's newest building further symbolizes Ontario Tech's deep community roots, its ongoing support for local economic development and its role in helping attract new businesses and talent to Oshawa."
-Dr. Steven Murphy, President and Vice-Chancellor, Ontario Tech University
About Ontario Tech University
A modern, forwarding-thinking university, Ontario Tech advances the discovery and application of knowledge to accelerate economic growth, regional development and social innovation. We inspire and equip our students and our graduates to make a positive impact in a tech-focused world. For us, it's not only about developing the next tech breakthrough. Understanding and integrating the social and ethical implications of technology differentiates us as university. Learn more at ontariotechu.ca.
Media Contacts
Mayor Dan Carter
City of Oshawa
905.436.5611
mayor@oshawa.ca
Bryan Oliver
Communications and Marketing
Ontario Tech University
289.928.3653 (mobile)
bryan.oliver@ontariotechu.ca
Gallery