Ontario Tech announces two new Board of Governors appointments
November 18, 2020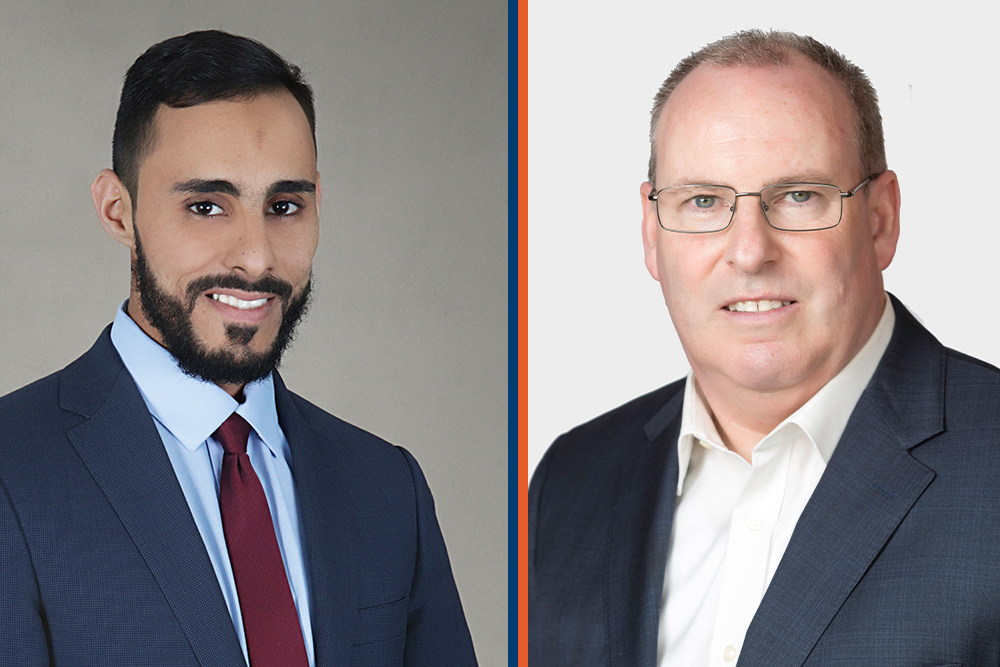 Ontario Tech University proudly announces Azzam Abu-Rayash and Douglas Ellis as the newest appointments to the university's Board of Governors.
Azzam Abu-Rayash will serve a one-year term with the Board as the elected student governor. Mr. Abu-Rayash is currently a PhD candidate in Mechanical Engineering in Ontario Tech's Faculty of Engineering and Applied Science, specializing in energy sustainability and smart cities. Pursuing a bilateral career in academia and energy consulting, he is a Certified Energy Manager and Project Management Professional with the Association of Energy Engineers, an Engineering Officer with the Canadian Armed Forces, and an Energy Management Consultant with the City of Oshawa. He is actively involved in the campus community as a dedicated volunteer, founder and board member in several non-profit organizations across Canada. The author of a book and eight journal articles, Mr. Abu-Rayash is the recipient of various esteemed awards and scholarships including the Ontario Graduate Scholarship, the Lieutenant Governor's Award and the Trillium Response Medal. He holds a Master of Applied Science in Mechanical Engineering from Ontario Tech University, and a Bachelor of Science degree from the University of Toronto.


Douglas Ellis will serve a three-year term with the Ontario Tech Board of Governors. Mr. Ellis is a Certified Financial Planner with Sun Life based in Courtice, Ontario. Mr. Ellis launched Ironside Financial Solutions in 2018, and has previously worked RBC Financial Group and London Life. He is an active member of the community and supporter of many causes, including the United Way of Durham, Baseball Ontario, and Their Opportunity-Durham. He's been a guest speaker on topics of financial literacy for the Firehouse Youth Club of Bowmanville and business planning for the Business Advisory Council of Durham. He is a volunteer Reservist with the Ontario Regiment Armoured Corps as a Corporal with 33 Brigade Group, a Primary Reserve formation of the Canadian Armed Forces. He holds a Bachelor of Arts degree in Economics and Political Science from the University of Windsor.