Ontario Tech cracks Top 40 of Canada's best research universities list
Also named one of Canada's four Research Universities of the Year in the 'smaller university' category
December 9, 2020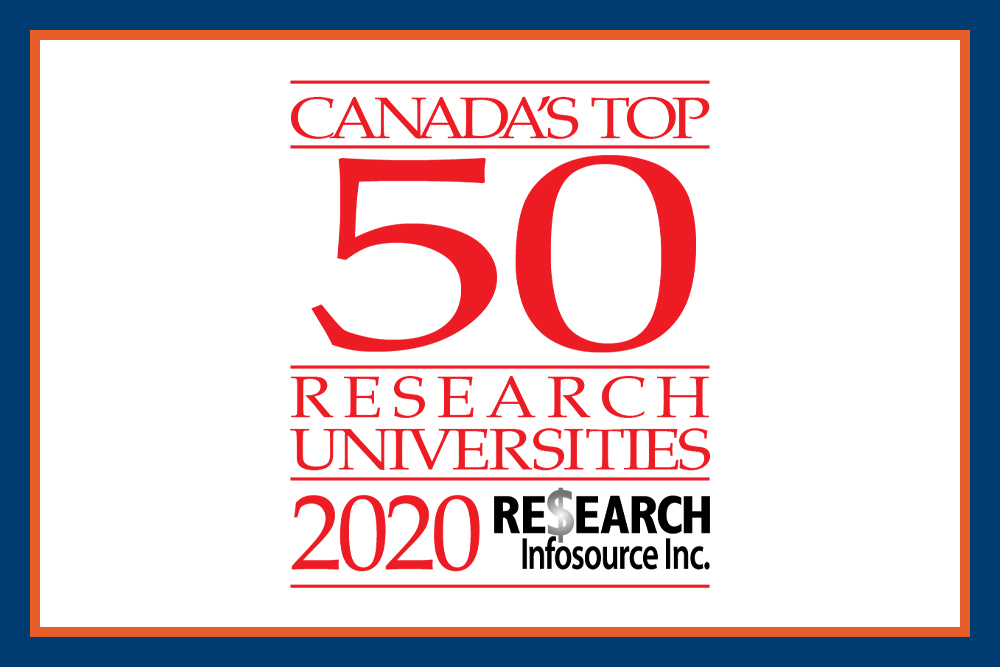 Amazing things are happening on the research front at Ontario Tech University. Still one of Canada's youngest research universities at just 17 years old, Ontario Tech's rapid growth as an influential hub of leading discovery and innovation has established its place among research-intensive Canadian universities.
The most recent milestone on the research front for Ontario Tech is the university's highest to-date ranking by Research Infosource (RI), Canada's leading provider of research intelligence for business and higher education.
Each fall, RI announces the list of Canada's Top 50 Research Universities, based on sponsored research income and research intensity, as determined by research funding per full-time faculty member and per student in graduate studies.
This year's RI report released December 8 reflects data for the 2019 fiscal year and shows Ontario Tech moving into the No. 39 position overall, its highest-ever placing, and first time in the top 40. Among all Canadian universities, Ontario Tech also ranks No. 30 in research intensity per full-time faculty member, and No. 32 in research intensity per graduate student.
Ontario Tech achieved an impressive 37.5 per cent year-over-year growth in research funding between 2018 and 2019.
Breaking the numbers down further among Canada's 21 smaller universities, Ontario Tech earned a spot in the Winners Circle for Corporate Research Income', ranking an impressive No. 2 for corporate research income as a percentage of total university research income, and No. 2 in year-over-year corporate research income growth. This achievement reflects Ontario Tech's strong commitment to industry research partnerships since its inception.
Ontario Tech also placed among the top four in the list of Research Universities of the Year in the 'smaller university' category.
Did you know?
Ontario Tech's ranking in the Research Infosource report has jumped nine spots since the university's first appearance in the report in 2008 (from No. 48 to No. 39).
Discover more about research at Ontario Tech
Quote
"In less than two decades, Ontario Tech University has built world-class research facilities that support an engaged, diverse research community of award-winning faculty and graduate students. Our extensive research-intensive networks of industry, academic and community partners, and unmatched research opportunities for our undergraduate students drive our commitment to innovation and research excellence. As Ontario Tech's research enterprise produces more and more important and impactful discoveries in a wide range of fields, we've only just begun to tell our compelling research story."
-Dr. Les Jacobs, Vice-President, Research and Innovation, Ontario Tech University
Media contact
Bryan Oliver
Communications and Marketing
Ontario Tech University
289.928.3653 (mobile)
bryan.oliver@ontariotechu.ca