Ontario Tech PhD candidate's research featured on the cover of a major chemistry journal
Holly Fruehwald is a PhD student in Ontario Tech's Faculty of Science
January 6, 2021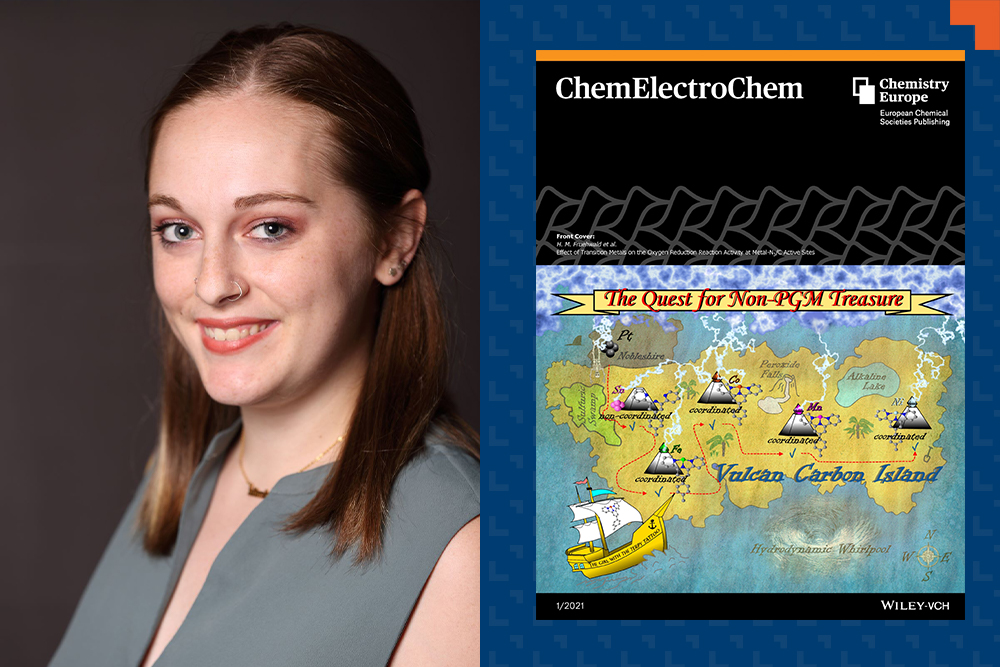 The year 2021 has kicked up off in impressive style for Ontario Tech University graduate student Holly Fruehwald.
Fruehwald, a Materials Science PhD candidate in the Faculty of Science, recently had her lead-author research paper accepted for publication in the journal ChemElectroChem, published by Wiley. What's more, the journal selected her work for the front journal cover and a cover profile in the January 4 issue.
The journal's front cover picture shows an artistic depiction of a treasure map quest for unique non‐platinum group metal fuel cell catalysts. Catalysts are substances used to speed up chemical reactions. While platinum is a very efficient catalyst, it's extremely expensive and relatively scarce. The use of non-platinum materials as catalysts could help make hydrogen fuel cells (that produce electricity through an electrochemical reaction) less expensive.
The development of inexpensive hydrogen fuel cells opens the door for the creation of electric vehicles powered by hydrogen, which in turn will enable zero CO2 emissions as cars only emit water from the tailpipe.
"The search for better and less-costly fuel cell catalysts is in many ways a quest for treasure," says Fruehwald, whose work is co-supervised by Dr. Brad Easton and Dr. Olena Zenkina of Ontario Tech's Faculty of Science. "The non-precious metals are visualized as gems on the tops of pyramids. Like any good treasure map, there are places to visit, pitfalls to avoid, and uncharted places that still need to be explored."
Read the full text of the article ('Effect of Transition Metals on the Oxygen Reduction Reaction Activity at Metal‐N3/C Active Sites')
Fruehwald's PhD supervisors are heralding her achievement as a major student success story.
"We are exceptionally proud of Holly's work and expanding research profile," says Dr. Easton. "In fact, this is the second time one of her papers has been selected for a journal front cover. Her work also appeared on the December 2019 cover of Catalysis Science and Technology, a Royal Society of Chemistry (RCS) journal."
"Reducing electrocatalyst costs in fuel cells is an applied challenge, especially when researchers are striving for performance targets for automotive applications," says Fruehwald. "In working with the Easton and Zenkina labs, we are using advanced surface modification methodologies with the aim of creating model catalytic systems to better-understand how particular catalytic sites work."
"Holly actively communicates her science by representing Ontario Tech in international and national conferences, where she's won awards for her research posters," says Dr. Zenkina. "She's also taken on a major leadership role, serving as one of only two Canadian doctoral student-delegates to the International Younger Chemists Network."
As a volunteer, Fruehwald is the acting Chief Administrative Officer of Canadians Working for Inclusivity in Chemical Sciences, and a leading member of the Ontario Tech-Trent University division of Working for Inclusivity in Chem.
The graduate of Cardinal Leger Secondary School in Brampton, Ontario began her academic journey at Ontario Tech by earning a Bachelor of Science degree in Chemistry (2017). In May 2020, she received an Alexander Graham Bell scholarship from the Natural Sciences and Engineering Research Council of Canada for 'top-ranked applicants'.
Related links