Colleagues, alumni and the university celebrate Dr. George Bereznai
New scholarship fund to honour Ontario Tech innovator, educator and leader
August 30, 2021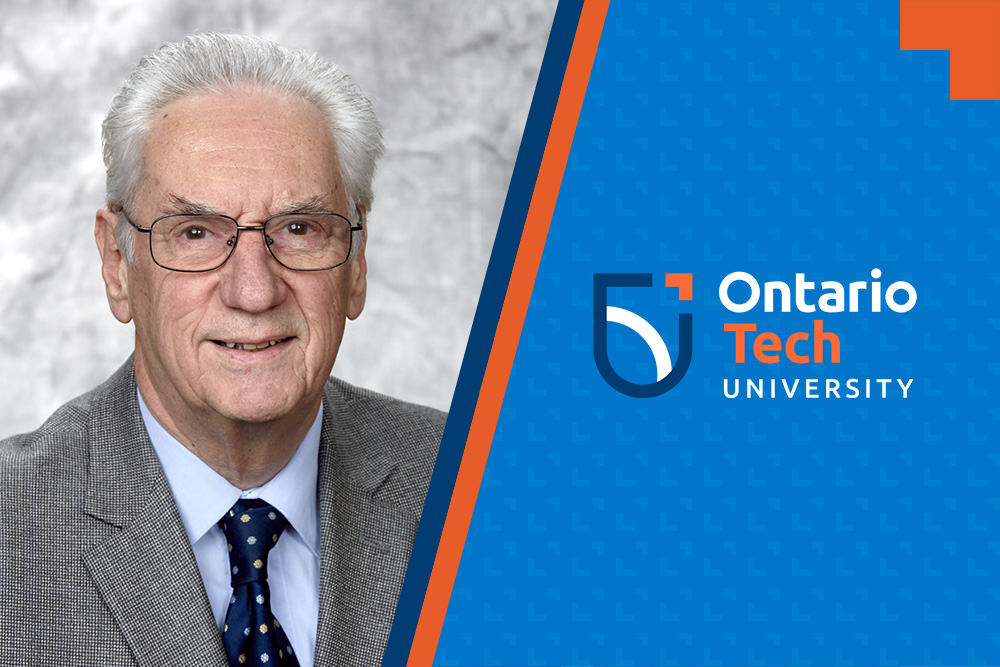 On June 30, 2021, Dr. George Bereznai retired after 19 years with Ontario Tech University. As one of the university's first faculty hires by founding president Dr. Gary Polonsky, Dr. Bereznai played a pivotal role in shaping the university's culture for innovation and collaboration, and building its reputation as a technology-focused and distinctly modern university.
As Founding Dean of the university's Faculty of Energy Systems and Nuclear Science (FESNS), his legacy is marked by his great vision, many exceptional achievements, and contributions to the energy sector in Ontario and Canada, and to academia. In honour of Dr. Bereznai's remarkable creativity throughout Ontario Tech's formative years, FESNS, in partnership with the university, launched a special initiative to create the Dr. George Bereznai Nuclear Engineering Fund.  
Thanks to the generous contributions of Dr. Bereznai's university and industry colleagues, alumni and friends, the Fund immediately exceeded its goal by raising more than $30,000. All gifts were matched by the Ontario Tech Board of Governors' Fund, bringing the total raised for the scholarship to $60,000.
Starting this fall, and in perpetuity, the Dr. George Bereznai Nuclear Engineering Fund will provide a $2,000 scholarship to a nuclear engineering student who is a first-generation Canadian.
More than 90 colleagues, friends and alumni gathered virtually on July 7, to celebrate Dr. Bereznai's career. Many shared milestones and memories highlighting his impact as an innovator, dedicated educator and nuclear industry leader.
Quote
"It is wonderful to see so many colleagues from the university and nuclear industry, as well as Ontario Tech alumni, come together to honour George Bereznai with a gift to establish this scholarship endowment. The response reflects the impact he has had on our students, across the entire university and the nuclear community. Our students will continue to develop as future leaders in the nuclear industry thanks to this scholarship."
-Susan T. McGovern, Vice-President, External Relations and Advancement, Ontario Tech University