Ontario Tech University pursuing licence to enhance high-tech nuclear laboratory facilities
New equipment would provide unique experiential learning opportunities for students and support leading nuclear energy research
February 22, 2023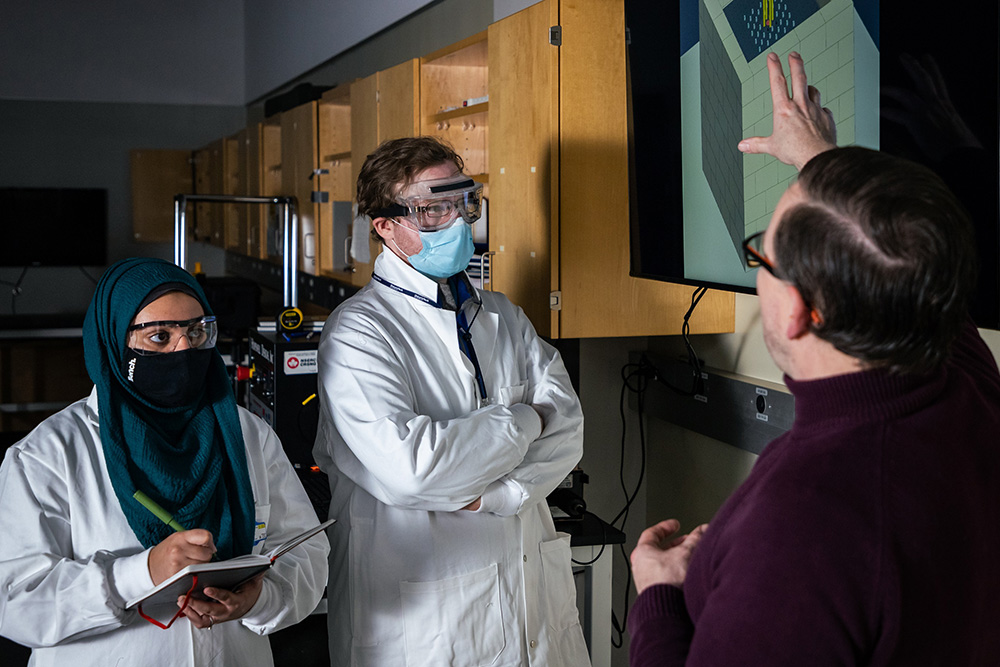 OSHAWA, ONTARIO – Ontario Tech University is pursuing the opportunity to enhance its high-tech nuclear laboratory facilities with the addition of new equipment, unique among all educational institutions in Canada.
Known as the Subcritical Assembly Project, the new equipment at Ontario Tech would enable enhanced hands-on, experiential learning opportunities for students, a key aspect of many of Ontario Tech's highly regarded energy and engineering programs, including Canada's only undergraduate Nuclear Engineering degree program.
The distinct design features of a subcritical assembly offer an ideal enhancement to the university's top-level nuclear engineering teaching and training infrastructure within its controlled and secure environment. 
The proposed Subcritical Assembly Project would also support important applied research by the university's nuclear engineering experts in co-operation with industry leaders, to develop nuclear technologies and strategies to protect the environment and combat climate change. The proposed subcritical assembly cannot produce power to generate electricity or heat that requires cooling, and we anticipate no adverse effects to the surrounding community or environment.
Project's full Canadian nuclear regulatory approval process to begin shortly
The proposed Subcritical Assembly Project is in an early phase, with many steps still to come, including obtaining an operational licence from the Canadian Nuclear Safety Commission (CNSC). The CNSC regulates the use of nuclear energy and materials in Canada to protect health, safety, security, and the environment. Ontario Tech has informed the CNSC of its intent to apply for a licence within the next year.
As the project evolves, Ontario Tech will actively engage with Indigenous communities and the broader public to further develop our proposed teaching and research tool. In addition, public participation in the CNSC's licensing process will be encouraged, to foster collaboration and understanding.
Quotes
"Ontario Tech students are involved in cutting-edge technology developments and research projects across many different fields.  The addition of this equipment would be a timely game-changer for our students and provide Ontario Tech with a unique-in-Canada tool for clean energy research and teaching. Students in our Energy, Nuclear Engineering, and Radiation Science programs would gain increased experiential learning opportunities, and be even further equipped for career readiness in their chosen fields."
-Dr. Hossam Kishawy, Dean, Faculty of Engineering and Applied Science, Ontario Tech University
"Research at Ontario Tech University strives to improve people's lives, contribute to economic development, and provide valuable, dynamic learning experiences for our students. The Subcritical Assembly Project is an example of how we team with industry, community, government and academic partners to bring ideas and insights into our research and teaching environment – dynamic spaces that contribute to a more prosperous social fabric and planet."
-Dr. Les Jacobs, Vice-President, Research and Innovation, Ontario Tech University
Media contact
Office of the Vice-President Research and Innovation
Ontario Tech University
905.721.8668 ext. 3692
subcritical@ontariotechu.ca
Gallery
---
About Ontario Tech University
A modern, forwarding-thinking university, Ontario Tech advances the discovery and application of knowledge to accelerate economic growth, regional development and social innovation. We inspire and equip our students and our graduates to make a positive impact in a tech-focused world. For us, it's not only about developing the next tech breakthrough. Understanding and integrating the social and ethical implications of technology differentiates us as university. Learn more at ontariotechu.ca.