Sarah Rijkenberg to represent Ontario Tech at provincial Three Minute Thesis competition
PhD in Applied Bioscience candidate's presentation wins 2023 Ontario Tech 3MT® competition
March 24, 2023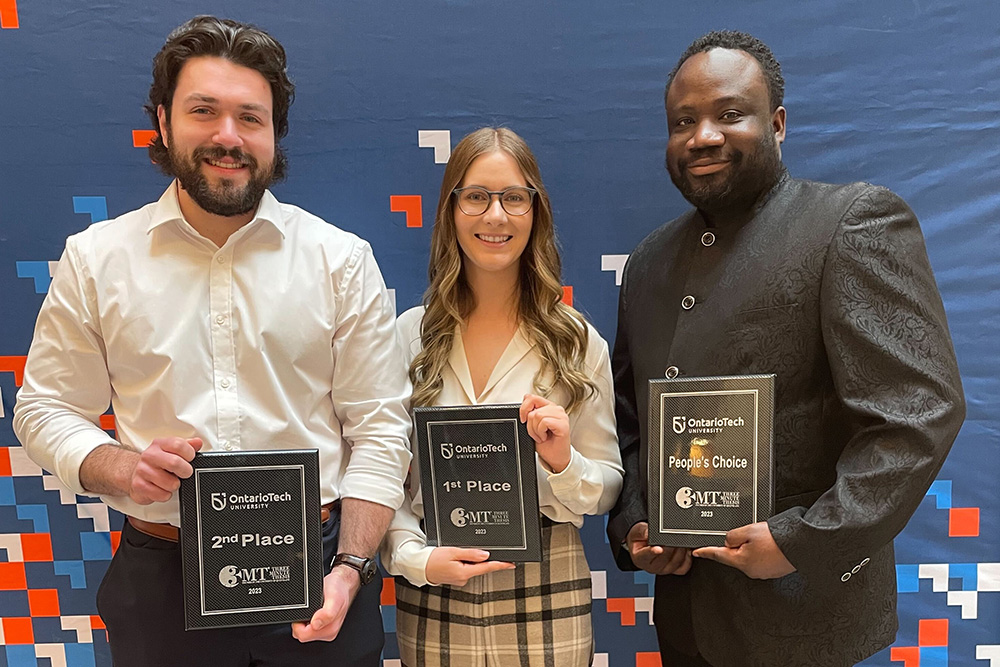 Explaining complicated research findings in a simple way is not an easy task. It becomes even more challenging if you have only three minutes to tell your story, with only one visual aid: a static image on a screen. The pressure ramps up if you are speaking in front a panel of judges and realize you cannot exceed the three-minute time limit under any circumstances.
Such is the scenario posed by Three Minute Thesis (3MT®), an annual contest involving graduate students at Ontario Tech University. After the preliminary round on March 22, the 2023 field was narrowed to six participants for the March 23 final round and awards presentation. When the dust settled, PhD in Applied Bioscience candidate Sarah Rijkenberg captured top spot for her thesis pitch about using plankton characteristics to monitor Ontario's fish populations.
On Wednesday, May 17, Rijkenberg will represent Ontario Tech in-person at the annual 3MT® Ontario Regional competition, this year hosted by Queen's University in Kingston.
3MT® offers an opportunity for students in Ontario Tech's School of Graduate and Postdoctoral Studies (SGPS) to share their knowledge and passion for discovery and research with the broader community, while also refining their skills as presenters.
Once available, video links to the finalists' presentations will be posted in the Videos section of the SGPS website(archive includes all Ontario Tech 3MT® finalist videos dating back to 2013).
2023 Ontario Tech University 3MT® finalists
Bismark Addo-Binney***, PhD (Mechanical Engineering) candidate: Cold climate heat pump.
Colin Elliott**, Master of Science (Applied Bioscience) candidate: How long has this been here? Establishing a timeline between the creation and discovery of forensic evidence.
Stacey Koorneef, Master of Science (Computer Science) candidate: Run, Llama, Run: A collaborative physical and online coding game for children.
Mari Pullman, Master of Science (Forensic Psychology) candidate: Mapping the developmental trajectories of chronic offenders.
Sarah Rijkenberg*, PhD (Applied Bioscience) candidate: Go Fish: Using plankton characteristics to monitor Ontario's fish populations.
Kelly Wang, Master of Arts (Education) candidate: Exploring TikTok, youth activism and fast fashion through an education lens.
* First place ($1,000 and the opportunity to represent the university at the provincial competition)
** Second place ($500)
*** People's Choice winner (as selected by the audience, $250)
Organized by Ontario Tech University's School of Graduate and Postdoctoral Studies, this year's 3MT® was generously sponsored by Johnson Insurance (gold sponsor); and Canadian Nuclear Laboratories (silver sponsor).
2023 Three Minute Thesis community judges (heats)
Fenella Ely, Chiropractor, Whitby Chiropractic Centre
Judy Marshall, Vice President and Program Executive, Kyndryl
Larkin Mosscrop, Program Manager, Advanced Reactors, Canadian Nuclear Laboratories
Skye Anderson, Indigenous Relations Advisor, Ontario Power Generation
2023 Three Minute Thesis community judges (finals)
Lorraine Sunstrum-Mann, Retired CEO, Grandview Kids
Rocco Guerriero, Associate Professor, Canadian Memorial Chiropractic College
Thomas Coughlan, Owner, Broker of Record, Coughlan Realty Ltd., Brokerage
Yvonne Brady, Senior Consultant, Johnson Insurance
The 3MT® competition was developed initially by the University of Queensland (Australia) in 2008 and first staged at Ontario Tech in 2013.
The competition is now held at more than 600 universities and institutions in 65 countries.  
Quote
"It's really nice to see that other people are interested in learning about the research being done at Ontario Tech. I like the idea of making science accessible and thinking about how to communicate big scientific concepts to the public in an accessible way. I would tell future 3MT participants to have fun with it, and practice, practice, practice!"
-Sarah Rijkenberg, PhD candidate in Applied Bioscience, Ontario Tech 3MT 2023 first-place recipient