Impactful solutions to improve food security on campus: How Ontario Tech students won silver at national hackathon
Team 'Circular Meals' earns second place at Experience Ventures Hackathon
April 5, 2023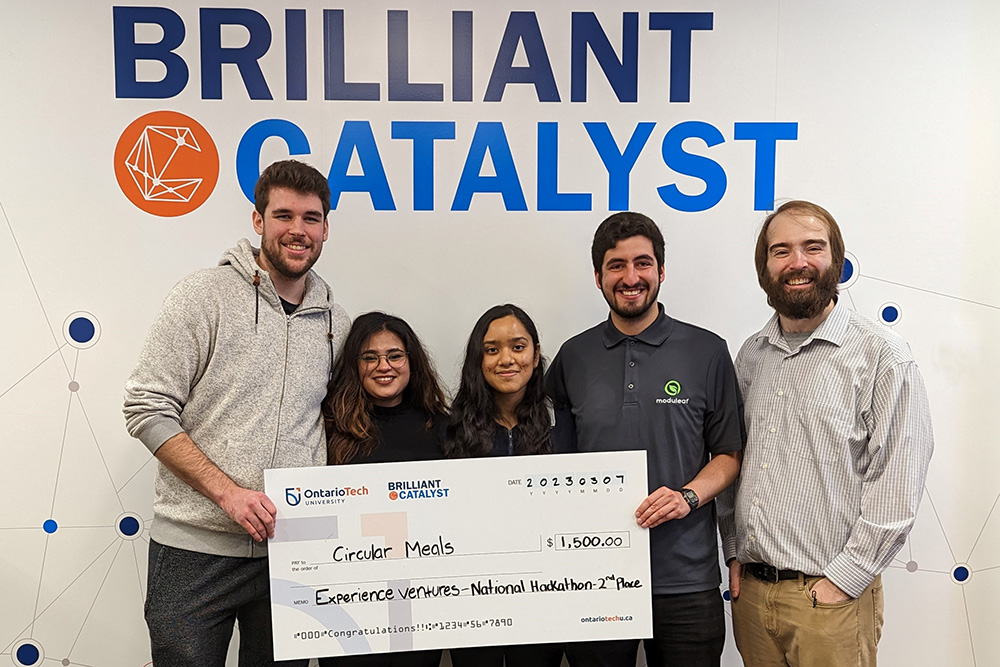 Hands-on learning combined with a spirit of entrepreneurship and social innovation are key components of the academic journey for students at Ontario Tech University.
Between January 26 and March 7, various student teams comprising some of the brightest and most innovative minds from universities across Canada were challenged by Experience Ventures to tackle challenges faced by the entire nation. The virtual hackathon pitted the Ontario Tech team against students from other universities, including McMaster, Toronto Metropolitan and Queen's.
The hackathon challenge
The hackathon theme 'Food Insecurity' focused on accessible, impactful, and sustainable solutions that post-secondary schools can implement to improve food security for students on their campus. Participants worked with mentors on their idea, and the top teams presented their ideas to judges for $5,000 in cash prizes.
Among the standout teams was Circular Meals from Ontario Tech, featuring:
Michael Bondarenko: third-year student, Life Sciences (Faculty of Science (FSci))
Scott Dennis: third-year student, Entrepreneurship (Faculty of Business and Information Technology (FBIT))
Anupriya Dubey: third-year student, Computer Science (FSci)
Nicholas Varas: fifth-year student, Mechatronics Engineering (Faculty of Engineering and Applied Science)
Katherine Walduck: third-year student, Accounting (FBIT)
Alizah Zaidi: fourth-year student, Criminology and Justice (Faculty of Social Science and Humanities)
The Circular Meals project focused on developing a sustainable and circular food system that utilizes university campus greenhouses to grow ingredients for low-cost meals and making them easily accessible to students. Their innovative idea and attention to food sustainability and accessibility earned the team second place in the hackathon.
Circular Meals was lauded for its innovative approach to resolving food insecurity issues within the student population.
The Ontario Tech team was coached by mentors Maryam Akhtar (Program Officer) and Cyrus K. Cooper (Expert-in-Residence) of Brilliant Catalyst, Ontario Tech's entrepreneurial hub for students and the broader community in Durham Region.
Quotes
"My journey navigating through the Experience Ventures National Hackathon was a memorable one. I learned from different individuals in the food industry and business professionals and entrepreneurs who both passed their wisdom onto my team and helped us advance to the next round of the challenge, as well as achieve second place. I truly believe that the work we are doing is making a difference, and we wouldn't be where we are without the help of our mentors and judges."
-Anupriya Dubey, third-year student, Computer Science, Faculty of Science
"Working with other like-minded individuals to design a solution for the Experience Ventures National Hackathon was an extremely enriching experience!"
-Alizah Zaidi, fourth-year student, Criminology and Justice, Faculty of Social Science and Humanities