Moose Hide Campaign designates Ontario Tech University as an Ambassador Campus
The Indigenous-led grassroots movement to engage men, boys and all Canadians in ending violence against women and children
April 12, 2023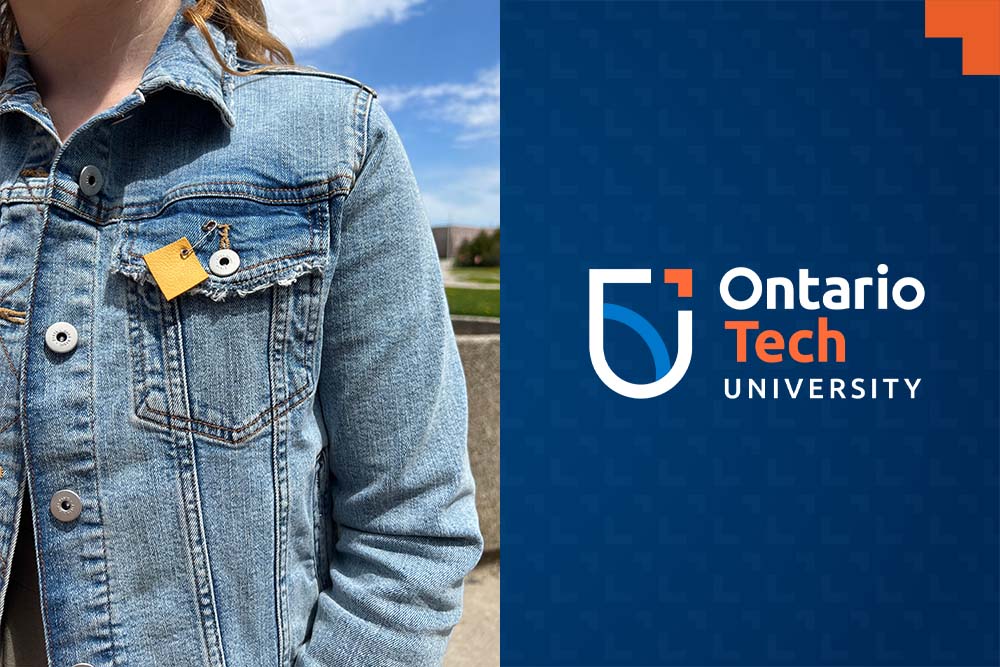 Ontario Tech University is committed to creating awareness of gender-based violence, taking preventive action to address this across the campus community and the wider community.  
In Winter 2021, Ontario Tech's campus joined the Canada-wide Moose Hide Campaign, a program that aims to: 
Address the crisis of missing and murdered Indigenous women and girls.
Speak out about gender-based and domestic violence.
Promote cultural sensitivity, anti-racism and healthier masculinities.
Launched in 2011, the Moose Hide Campaign also supports the Truth and Reconciliation Commission Calls to Action and the United Nations Declaration on the Rights of Indigenous Peoples. 
Fact:

Half of all women in Canada have experienced at least one incident of violence since the age of 16; the percentage is much higher for Indigenous women.

 
Following Ontario Tech's very successful connection to the Moose Hide Campaign in 2022, Ontario Tech recently earned official designation as a Moose Hide Campaign Ambassador Campus, in recognition of the university's commitment to do the work to create a safer society for all. 
Summary of key Moose Hide Campaign achievements at Ontario Tech
Ontario Tech has engaged with approximately 1,000 people through campus events, in-person awareness booths and webinars.

The university encourages the campus community to wear the Moose Hide pin to bring awareness to the campaign. Each pin sparks approximately five new conversations: with more than 600 Moose Hide pins ordered to date, Ontario Tech has contributed to an estimated 3,000 conversations.

Ontario Tech held an informational webinar in May 2022 with a keynote address by Sage Lacerte, National Youth Ambassador to the Moose Hide Campaign, where Lacerte shared the origin story, goals and real-life impacts of the campaign.
Be a part of this growing community: How you can support the 2023 Moose Hide Campaign
The 2023 Moose Hide Campaign's National Campaign Day is Thursday, May 11. Ontario Tech encourages the campus community, and all partners and friends, to join us in recognizing the impact of gender-based violence and in taking action to show your commitment. 
You can get involved by: 
Helpful links for more information 
If you need support, you can book an appointment with the Indigenous Cultural Advisor at Ontario Tech by emailing indigenous@ontariotechu.ca.  
Quotes
"As a campus rooted in equity, diversity and inclusion, and with a commitment to decolonization and reconciliation evidenced through action, I feel very proud of what we have accomplished through this designation. It is imperative to acknowledge that our students, employees and others who interact with our institution may experience, or be a support person for, someone who has been affected by gender-based violence. As an Ambassador Campus, we commit to educating our community about the truth shared in the Missing and Murdered Indigenous Women and Girls Inquiry Calls for Justice, and moving towards reconciliation by embedding the Truth and Reconciliation Commission Calls to Action into our institution." 
-Akeisha Lari, Manager, Student Engagement and Equity, Office of Student Life, Ontario Tech University 
"Ontario Tech University recognizes the importance of remembering and learning from the past, so that we can improve our future. The Moose Hide Campaign Ambassador Campus designation represents Ontario Tech's prioritization of the engagement of all communities to help end gender-based violence, and reinforces the university's commitment to action, education, meaningful dialogue and change." 
-Dr. Langis Roy, Deputy Provost, Ontario Tech University 
"It was an incredible honour to be invited to speak at the Moose Hide Campaign information webinar, held in partnership with Ontario Tech University. This powerful gathering provided a platform to exchange stories, goals, and tangible impacts of the Campaign. Being able to both hear and share these experiences was a truly inspiring and moving moment – a testament to the strength of community and our collective ability to drive meaningful change." 
-Sage Lacerte, National Youth Ambassador, Moose Hide Campaign  
"We've been fortunate to count Ontario Tech University as an active partner of the Moose Hide Campaign since 2021. Through a range of impactful programs and events – such as Equity Talks with Moose Hide Campaign, Ridgeback Orientation, and their Campaign Launch event – the institution has demonstrated a deep commitment to creating safer and more equitable campus communities. As we prepare to recognize Ontario Tech University as an official Ambassador Campus Partner, we're grateful for their unwavering support and shared dedication to ending violence against women and children."
-Omar Karim, National Director, Post-Secondary Engagement and Initiatives, Moose Hide Campaign 
Media contacts
Bryan Oliver
Communications and Marketing
Ontario Tech University
289.928.3653 (mobile) 
bryan.oliver@ontariotechu.ca 
Garry Snow 
Director of Communications 
Moose Hide Campaign 
1.587.998.9088 
communications@moosehidecampaign.ca