Ontario Tech master's degree thesis wins North American award
2022 Master of Arts in Education graduate Jennifer Robb honoured in New Hampshire ceremony
April 25, 2023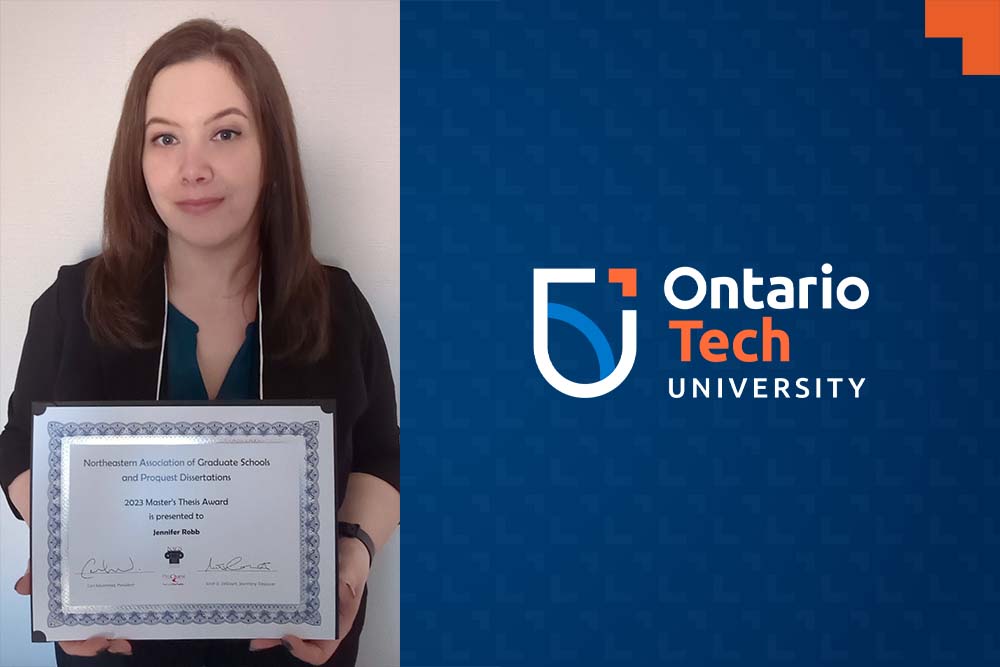 Fresh off of capturing two prestigious university awards for her Ontario Tech University master's degree thesis in 2022, Master of Arts in Education grad Jennifer Robb's scholarly pursuits have garnered international recognition.
Robb is the 2023 recipient of the Northeastern Association of Graduate Schools (NAGS) and ProQuest Dissertations Master's Thesis Award from the field of Social Sciences and/or Education. She is the first person from Ontario Tech's School of Graduate and Postdoctoral Studies to win this award. NAGS draws institutional membership from Canada's six easternmost provinces, plus 11 northeastern U.S. states and the District of Columbia. NAGS is one of four regional affiliates of the Washington, D.C.-based Council of Graduate Schools.
The faculty supervisor for her thesis 'ChangeMakers: Exploring Social Consciousness through Making and the Internet of Things' was Dr. Janette Hughes, Professor, Faculty of Education and Canada Research Chair in Technology and Pedagogy.
Robb received her NAGS award at an April ceremony in Portsmouth, New Hampshire, where the awards committee informed SGPS that Jennifer's "well-crafted, meticulously-reasoned and timely work demonstrated its power by resonating with reviewers from a variety of disciplines".
Robb, who defended her thesis in Fall 2021, was awarded the Ontario Tech Outstanding Master's Thesis Award and the Governor General's Gold Medal of Academic Excellence Award at Ontario Tech's 2022 Convocation ceremonies.
About Jennifer Robb's ChangeMakers thesis
Today's students are so well-connected, learning of significant global events mere minutes after they've occurred. It's easy to feel helpless. Increasing international connectedness through technology and globalization generates a need for schools to promote students' awareness, analytical skills, and active engagement with global issues.
The Internet of Things (IoT) refers to the connection of things over a network (e.g. smartphone apps) allowing devices to 'talk' to each other. IoT is already having a significant impact on our lives, however, technology in education often lags far behind. While IoT is widely used in schools for logistical and administrative purposes, it's still rarely used as a tool for learning at the elementary level, which means its potential to engage students is not yet being realized.
To promote digital fluency and facilitate students' engagement with social issues, Robb's research leveraged hands-on, student-driven approaches to learning that integrate science, technology, engineering, arts and math disciplines with the design and construction of digital or physical products with electronic construction kits. 
Robb explored how elementary-aged students might engage in social action through the design and creation of IoT passion projects. Her research found that students gained a basic understanding of fundamental IoT concepts, including issues related to its security, privacy, and accessibility to underserved communities around the world. They recognized the potential of IoT to address concerns related to such topics as food insecurity, personal safety, education, and sustainable development.
Quotes
"Writing a thesis can be all-consuming; you pour your heart and soul into your work, all while questioning whether what you're doing is meaningful, or at a minimum, whether it will be good enough to get you through your defense. It is incredibly validating to have your research recognized not only by your home institution, but also by a regional association of prestigious schools. I am beyond grateful for all of the support from my thesis supervisor and committee, my peers, the wonderful instructors and staff in the Faculty of Education, and the School of Graduate and Postdoctoral Studies. While a thesis may have one author, it is truly a community effort."
-Jennifer Robb, 2022 Ontario Tech University Master of Arts in Education graduate
"Jennifer's commitment to educational innovation through technology and pedagogy, as well as her passion for working with students with exceptional needs, make her an excellent recipient for this thesis award. She is an analytical and conscientious researcher, and I am eager to follow the career of this dynamic young woman as she continues to demonstrate exemplary work in this field."
-Dr. Janette Hughes, Professor, Faculty of Education and Canada Research Chair in Technology and Pedagogy
---
About Ontario Tech University
A modern, forwarding-thinking university, Ontario Tech advances the discovery and application of knowledge to accelerate economic growth, regional development and social innovation. We inspire and equip our students and our graduates to make a positive impact in a tech-focused world. For us, it's not only about developing the next tech breakthrough. Understanding and integrating the social and ethical implications of technology differentiates us as university. Learn more at ontariotechu.ca.