New Ontario Tech robotics equipment to enhance experiential learning environment for Engineering students
University is home to some of the most modern post-secondary infrastructure in Canada
October 13, 2023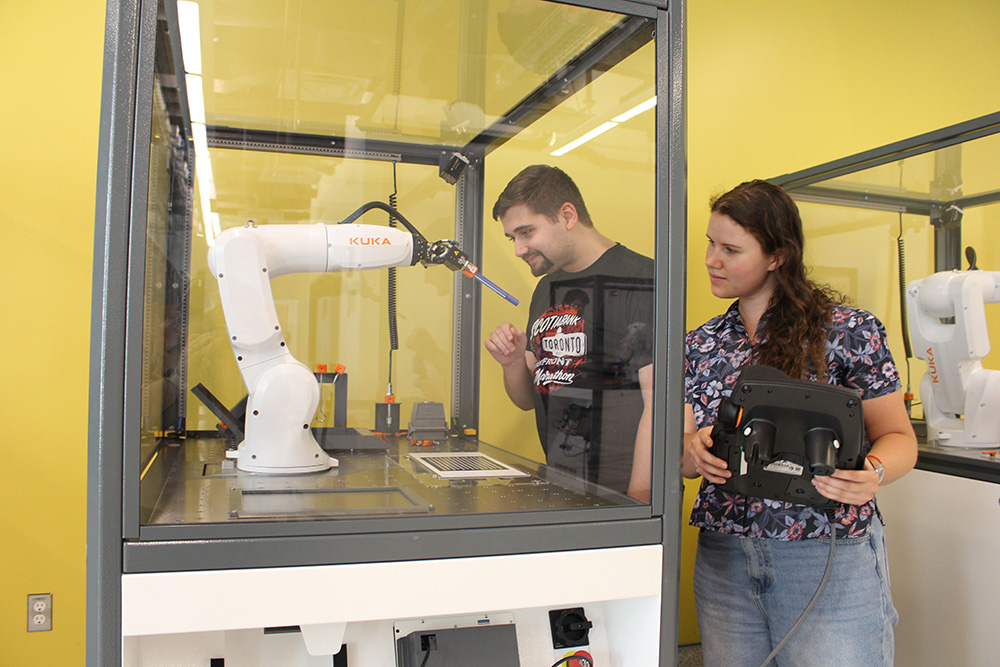 As Ontario Tech University celebrates its 20th anniversary, students in a wide range of undergraduate Faculty of Engineering and Applied Science (FEAS) programs now enjoy access to updated state-of-the-art robotics technology in their lab spaces.
Through new Training Equipment and Renewal Fund funding from the Ontario Ministry of Colleges and Universities (MCU), Ontario Tech has installed eight new robot work cells in the FEAS Robotics and Automation Lab in the university's Software and Informatics Research Centre (Room 2070). The new equipment replaces six robotic arms in use since 2006. The MCU grant covers $372,000 of the project's $612,000 overall cost.
The robot work cells strengthen the experiential learning environment for undergraduate students in:
Industrial Engineering
Manufacturing Engineering
Mechanical Engineering
Mechatronics Engineering
"Robots play a vital role in meeting the changing demand of advanced manufacturing and many other sectors such as logistics, agriculture, food processing, pharmaceuticals, and energy," says Dr. Scott Nokleby, Associate Dean (Academic), FEAS. "Ontario Tech Engineering students will gain invaluable opportunities to develop their knowledge and skills in high-precision motion planning for industrial applications such as welding, gluing, packaging, and assembly operations. The new robot work cells will also facilitate training for integration of advanced vision systems and Programmable Logic Controllers (PLCs), which are widely used in industry."
The new robot work cells come with unlimited offline programming licenses that will allow students to program robots outside the scheduled laboratory time. In addition, students will be able to complete virtual simulations in advance and then implement their solutions on the robot work cell hardware. 
"This is all about Ontario Tech's continued focus on differentiating our programs through leading experiential learning labs for our Engineering students," says Dr. Hossam Kishawy, Dean, FEAS. "With the rapid global expansion of robot use and automation, we want to have the best infrastructure to prepare our students for engineering careers in wider applications, from manufacturing and service operations to system integrators."
Quick facts about robotics and automation
The stock of operation robots around the globe has hit a new record of 3.5 million units (source: International Federations of Robotics).
Although traditionally the domain of global Original Equipment Manufacturers (OEMs), new trends in robotics are also attracting small enterprises.
It is expected that annual worldwide robot installations will surpass 500,000 in 2024, with growth attributed to consumer goods and services robots in food industry, from agricultural facilities to ready-to-eat products (source: World Robotics Report).
Gallery