Ontario Tech grad student Michael Watterworth wins national award for master's thesis
Undergraduate student Gillian Slade also nominated for poster award
October 20, 2023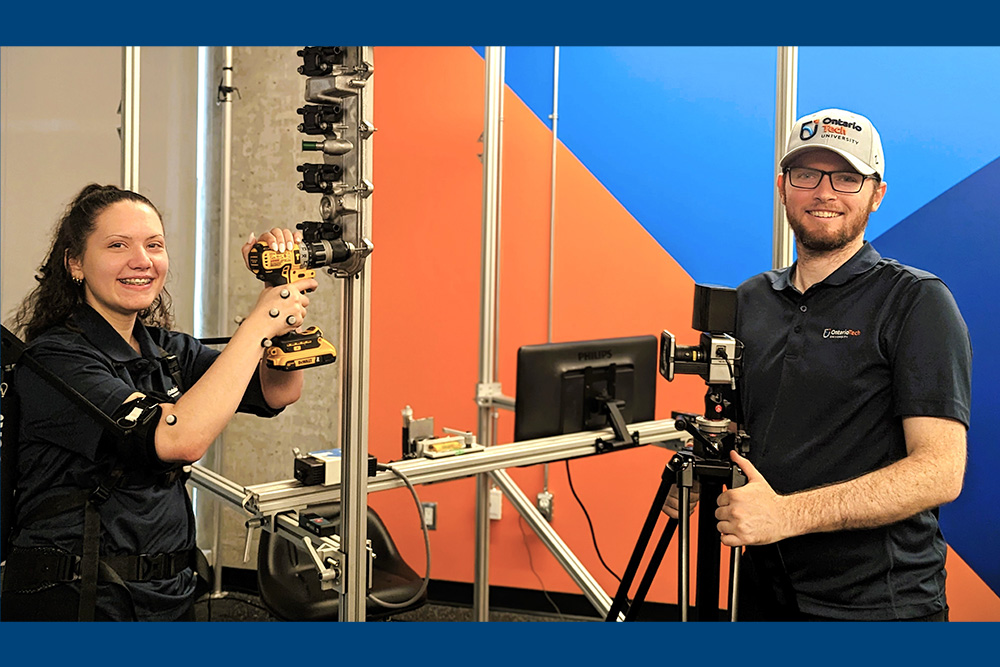 A pair of Ontario Tech students garnered national attention for their scholarship and research at the Association of Canadian Ergonomists conference held in early October in Burlington, Ontario.
Faculty of Health Sciences (FHSc) PhD candidate Michael Watterworth took home the J.M. Christensen Award for excellence in master's-level ergonomics research. Watterworth completed his master's degree in Health Sciences at Ontario Tech in August 2022. He is also currently a student representative on the university's Board of Governors.
Watterworth collaborated with General Motors on his project, exploring how exoskeletons could be an effective ergonomics intervention for overhead work in the automotive assembly sector. His research provides guidance on which scenarios occupational exoskeletons can be used in for workers' maximum benefit.
At the same conference in Burlington, fourth-year Ontario Tech Kinesiology student Gillian Slade was also nominated for an undergraduate award for her research poster presentation examining the consistency between repeated bouts of maximal strength exertions (e.g., handgrip squeeze, elbow flexion, etc.) Her work provides recommendations to researchers and clinicians on how these tests should be administered to be considered reliable.
Quotes
"Receiving this award is testament to the power of collaboration between industry and academia. I am happy I was able to contribute to the potential improvements in the industry with an emerging technology, and I'm excited about the future partnerships that will evolve from this research."
–Michael Watterworth, PhD candidate (Health Sciences, specializing in Biomechanics and Ergonomics), Faculty of Health Sciences
"I am exceptionally proud of both Michael and Gillian for the outstanding quality of their research, and for helping put a major national spotlight on Ontario Tech's Kinesiology program, at both the undergraduate and graduate level.
–Dr. Nicholas LaDelfa, Associate Professor, FHSc, who supervises both students in the Occupational Neuromechanics and Ergonomics Laboratory
Gallery
---
Media contact
Bryan Oliver
Communications and Marketing
Ontario Tech University
289.928.3653 (mobile)
bryan.oliver@ontariotechu.ca