Ontario Tech's entrepreneurship ecosystem helps secure $1 million grant to investigate winter season food production in Canada
Brilliant Catalyst at Ontario Tech connects local business startups with research expertise to produce innovative, real-life solutions
October 24, 2023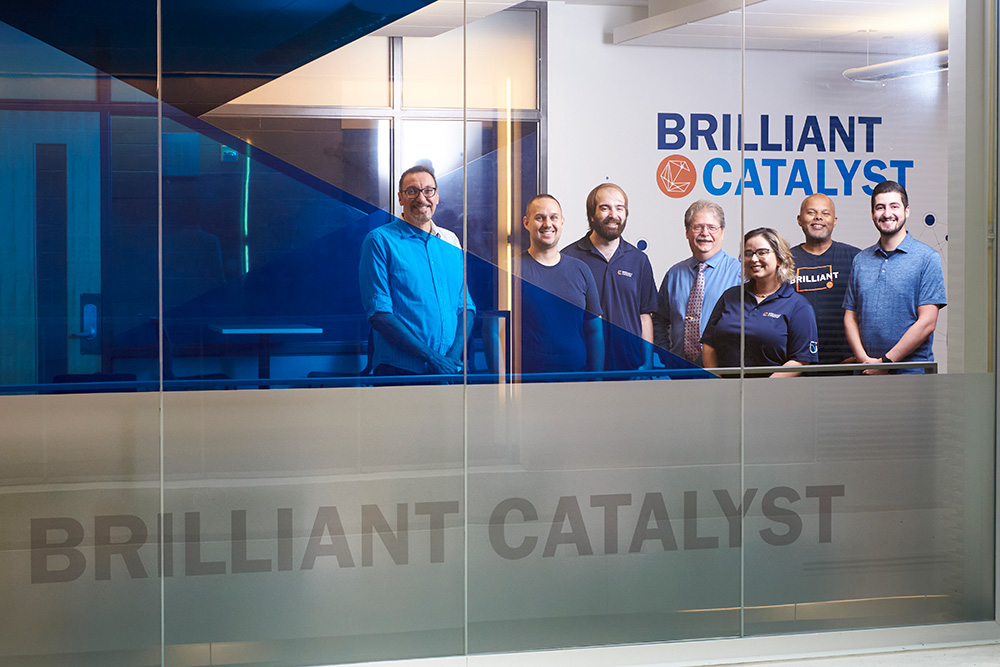 Canada's short agricultural growing season historically requires fresh produce to be imported from warmer-climate countries during the winter. But don't be surprised if you start seeing more fruits and vegetable grown in Canada at the supermarket each January and February.
Technological innovation has allowed the creation of 'controlled environment agriculture' (CEA) facilities that stretch the growing season and offer a bumper crop of new opportunities for domestic growers. But there are obstacles: operating these indoor controlled environments requires special skills, increases labour costs, and can have high energy needs, especially in northern regions.
Ontario Tech's Brilliant Catalyst connects community partners to find solutions
Researchers at Ontario Tech University are developing an energy-efficient CEA facility at Willowtree Farm in Port Perry, Ontario that will outperform traditional greenhouses in the production of strawberries—particularly during Canada's cold winter months. Known as the 'Brilliant Farm Project', the innovative technology plan recently earned a $1 million development grant from the Weston Family Foundation through its Homegrown Innovation Challenge.
The work of the Weston Family Foundation grant at Willowtree Farm is being driven primarily by Brilliant Catalyst, the university's on-campus incubator for innovation and entrepreneurship. Brilliant Catalyst organically allows the innovation of startups and researchers to help create real-life solutions for growers. Ontario Tech was connected to Willowtree by research partners Turnkey Aquaponics and Moduleaf Technologies.
"We're going to provide affordable agricultural products and showcase what innovation can do," says Dr. Osman Hamid, Ontario Tech's Founding Director of Creativity and Entrepreneurship, and the project's Principal Investigator. "Once we solve the energy efficiency problem and labour problem, everything will be from farm to table in a very short time."
How it works: An ecosystem where plants and innovation both thrive
The CEA facility at Willowtree Farm is a thermally-enhanced greenhouse with 350 square metres of dedicated grow space, fully tested and optimized by a broad range of experts from artificial intelligence to aerospace systems engineering. The CEA features a number of complementary technologies:
A Combined Cooling, Heat, and Power System (CCHP) that uses organic waste to generate heat and electricity. The heat can warm the grow space or power a heat pump to cool the grow space. The CCHP will also recycle carbon dioxide and deliver nutritional support back to the plants.
A Waste Heat Dehumidification System that runs on captured waste heat from artificial lights providing dehumidification.
An Autonomous Intelligent Monitoring System (AIMS) to monitor health and growth, and to trigger early interventions if plants start to wane.
"At Brilliant Catalyst, we are driving Canadian solutions developed by Canadian founders and innovators," says Dr. Hamid. "I have the privilege of being able to see all these creative ideas and the entrepreneurial spirit that comes from a bigger community. Ultimately an idea such as this could help mitigate the current food crisis, while also make Canadian growers more competitive."
"The next generation doesn't see new technology as a threat, they see it as a way to further their legacies," says Alex McKay, Co-owner, Willowtree Farm and second-generation farmer. "That is the exciting part: being able to work with new partners and grow our networks. The Homegrown Innovation Challenge speaks to what we wanted to do when we created this ecosystem."
"Having integrated solutions really provides a competitive advantage," says Dr. Hamid. "Perhaps the best thing about the project is being able to fail quickly, learn quickly, and fix it quickly. I know it sounds weird to be excited about failure, but I think the process is going to be more than fast—it's going to be hypersonic."
Brilliant Farm Project collaborators
Ontario Tech University: Dr. Glenn Harvel, Dr. Qusay Mahmoud and Dr. Jaho Seo (Faculty of Engineering and Applied Science); Connor Loughlean (Brilliant Catalyst)
Willowtree Farm: Alexander McKay
Turnkey Aquaponics Inc.: Craig Robinson, Michael Veneziano and Tony Veneziano  
Moduleaf Technologies: Nicholas Varas
Gallery
---
Media contact
Bryan Oliver
Communications and Marketing
Ontario Tech University
289.928.3653 (mobile)
bryan.oliver@ontariotechu.ca