Predicting space weather and protecting satellites: Ontario Tech students' idea helps them soar to global stage of international NASA hackathon
NASA Challenge is the largest annual global hackathon in the world
October 23, 2023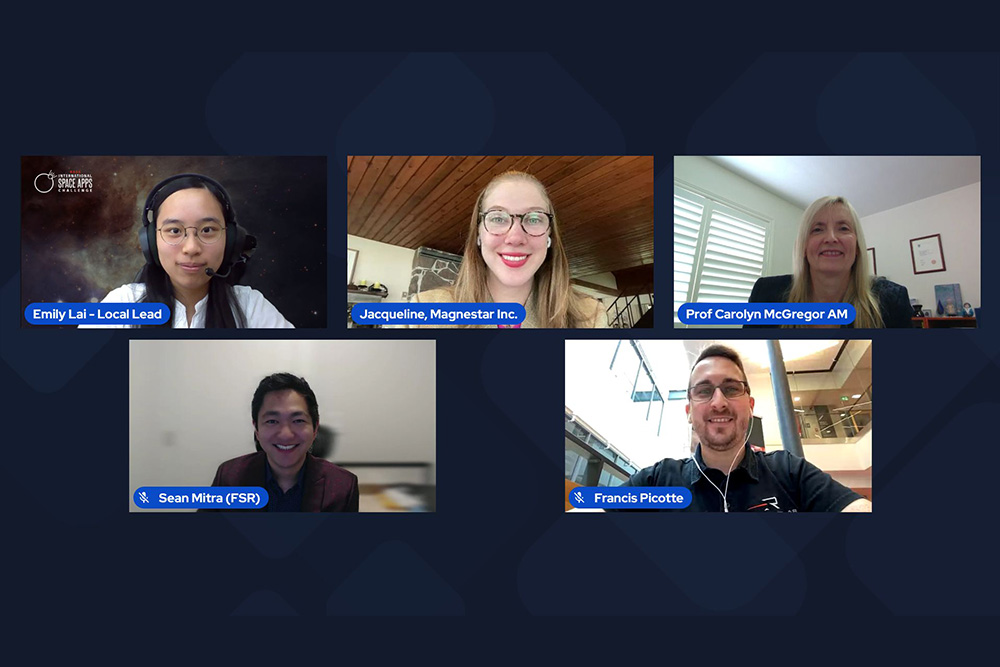 Four Software Engineering students at Ontario Tech have advanced to the global stage of the NASA Space Apps Challenge hackathon with the hope of earning one of 10 Space Apps Global Awards from the space agency.
Ontario Tech University's Engineering Students' Society, with support from the Faculty of Engineering and Applied Science, participated in the NASA International Space Apps Challenge on October 7 and 8. The event saw a record-breaking 50,000 participants worldwide, making it the largest annual global event of its kind.
At Ontario Tech in Oshawa, 46 individuals (including a number of senior high school students from Durham Region) registered and formed teams. The participants were matched with mentors provided by the Canadian Space Agency. Their task was to solve one of 30 different challenges using open data from NASA and its Space Agency Partners to address real-world challenges on Earth and in space.

During the hackathon opening ceremony, participants were greeted by a space careers panel and various guest speakers that included:
Brian Gallant, CEO, Space Canada
Carolyn McGregor AM, Professor and Interim Dean, Faculty of Business and Information Technology, Ontario Tech University
Jacqueline Good, Founder and CEO, Magnestar Inc.
Sean Mitra, Space Lawyer, Co-Founder and CEO, Foundation Space Resources
Francis Picotte, Spacecraft Component Sales Engineer, Sinclair Interplanetary by Rocket Lab
Following the hackathon, Ontario Tech team Goofy Goobers, composed of fourth-year Software Engineering students Abdul Shahid, Nived Leju Ramachandran Sonia, Reyhan Kogukoglu and Rosalyn Sayim, was nominated to advance to the global stage of the NASA International Space Apps Challenge.
The Goofy Goobers project aims to create a user-friendly computer program that analyzes spacecraft-collected data to detect and assess magnetic reconnection (MR) events in space. MR is a complex process where magnetic field lines merge, impacting space weather. By identifying MR occurrences, their project can help enhance space weather prediction, safeguard satellites, and protect terrestrial power systems.
Team Wesley, composed of third-year Software Engineering students Jeremy Mark Tubongbanua, Jerry Shum  and Nehmat Farooq, and Mechatronics Engineering student Wesley Kyle De Guzman earned an honourable mention as winners of the People's Choice Award.
Between October and December, experts from NASA, its Space Agency Partners, and from the space industry will evaluate all global nominees and select the winners.
NASA offers 10 Space Apps Global Awards:
Best Use of Science
Best Use of Data
Best Use of Technology
Galactic Impact
Best Mission Concept
Most Inspirational
Best Storytelling Award
Global Connection Award
Art and Technology Award
Local Impact Award
Winning teams will receive an invitation to visit a NASA centre or facility for a special trip.  
Quote
"It has been so wonderful to see our hard work culminate in a competition that inspires students to challenge themselves and explore the space industry. As a Local Lead, I was honoured to help encourage innovation in my peers and help students create new milestones on their pathway to becoming engineers. It is rewarding to see the projects that came out of the competition, and the growing number of young people interested in the space industry."
-Emily Lai, Co-organizer and third-year Software Engineering student, Faculty of Engineering and Applied Science