Transformational research, in your community: Ontario Tech's local R&D enterprise builds global influence
University recognizes its researchers and their passion for inquiry
October 19, 2023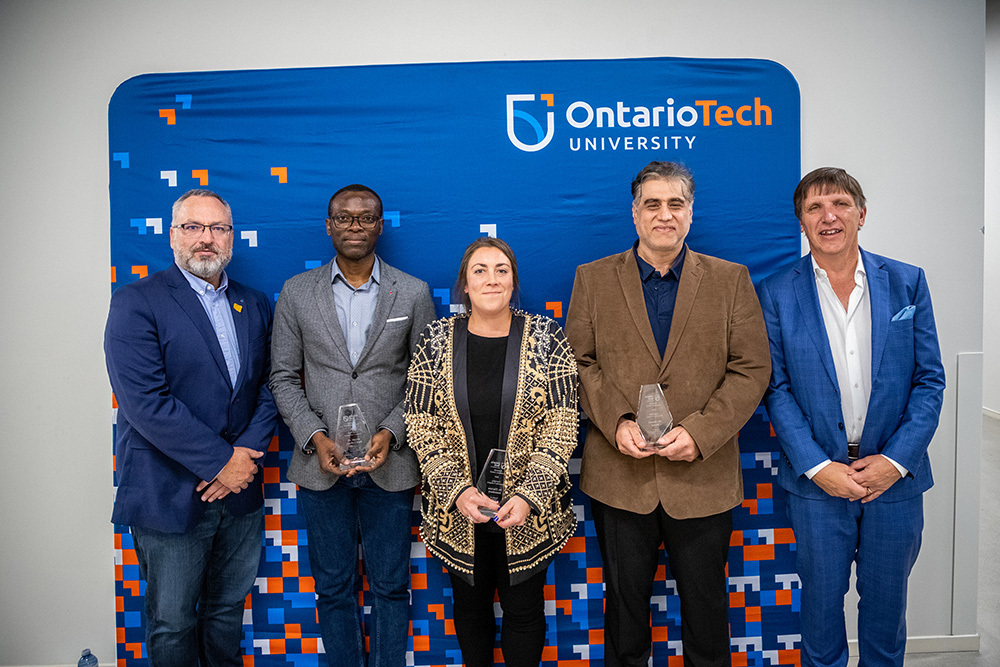 Ontario Tech University's legacy of achievement throughout its first 20 years continues to strengthen as it its reputation grows as a leading research-intensive institution. Today the university attracts more than $26 million annually in research income, that drives exploration of new ideas and new knowledge to help accelerate economic growth, regional development and social innovation.
This Fall, Ontario Tech is recognizing a new cohort of Research Excellence Chairs* for their high-quality research and career achievements** that are widening the university's global influence.
Building Ontario Tech's strategic research priorities and strengths
Researchers at Ontario Tech are key national voices for scholarship and discovery whose work focuses on understanding the social and ethical implications of technology and the goal to improve the lives of humans and the planet. The university's Strategic Research Plan identifies six strategic priority areas:
Autonomous Vehicles and Systems
Canada's Energy and Environmental Future
Data Science, Artificial Intelligence and New Technologies
Healthy Populations, Community Well-Being and Social Justice
Intelligent Manufacturing and Materials Innovation
Social Innovation, Disruptive Technologies and the New Economy
These research priority areas are supported by Ontario Tech's well-established research strengths in:
Advanced Manufacturing and Materials
Automotive Engineering, Transportation and Electrification Systems
Community Wellness, Human Performance and Health Promotion
Crime, Justice and Forensics Sciences
Digital Technologies, Machine Learning and Artificial Intelligence
Energy, Applied Bioscience and Environmental Sustainability
Ontario Tech is home to hundreds of leading experts from around the world
Ontario Tech's research enterprise is supported by an incredible infrastructure of modern laboratories, research institutes, research centres and research groups. Its six faculties and School of Graduate and Postdoctoral Studies are home to a powerful team of leading academics: scholars and research experts who have come from around the world to be part of vital hub on the eastern flank of the Greater Toronto Area. Ontario Tech is home to 11 Canada Research Chairs, and an array of faculty leaders designated as Ontario Tech Research Excellence Chairs (REC).  
The REC program recognizes and rewards the high-quality research and scholarly achievements of Ontario Tech faculty members. The program enables accomplished scholars to complete a major research program or project, and emphasizes the importance of strategic research areas.
*2023-2025 Ontario Tech Research Excellence Chairs
Dr. Shilpa Dogra, Faculty of Health Sciences (FHSc) (Human Mobility)
Dr. Salma Karray, Faculty of Business and Information Technology (FBIT) (Marketing Analytics and Decision Models)
Dr. Andrea Kirkwood, Faculty of Science (FSc) (Urban Water)
Dr. Atef Mohany, Faculty of Engineering and Applied Science (FEAS) (Structural Integrity of Nuclear Components)
Dr. Pierre Côté, FSHc (Musculoskeletal Rehabilitation; three-year appointment, through 2026)
2023 Research Excellence Award returns
Ontario Tech also welcomes the return of the Research Excellence Awards (REA) to recognize the extraordinary work of its researchers. The REA (on hiatus from 2020 to 2022), is presented to researchers at various stages of their career (established, mid-career, or emerging). As was previous tradition, new recipients recognized at an on-campus event October 18 were invited to give a short presentation on their research, as part of the REA Speaker Series.  
**2023 Ontario Tech REA recipients (by category, followed by presentation title)
Established researcher: Dr. Ahmad Barari, Professor, Faculty of Engineering and Applied Science (From Digital to Quantum: A journey in design and manufacturing)
Mid-career researcher: Dr. Martin Agelin-Chaab, Professor, Faculty of Engineering and Applied Science (Improving the performance of emerging vehicles)
Emerging researcher: Dr. Theresa Stotesbury, Assistant Professor, Faculty of Science (Snapshots from Ontario Tech University's forensic chemistry and materials laboratory)
Quote
"Congratulations to all of the new Ontario Tech Research Excellence Chairs and the three Research Excellence Award recipients. Their research programs exemplify the depth and strength of the research enterprise at Ontario Tech University."
-Dr, Les Jacobs, Vice-President, Research and Innovation, Ontario Tech University
Related link
Media contact
Bryan Oliver
Communications and Marketing
Ontario Tech University
289.928.3653 (mobile)
bryan.oliver@ontariotechu.ca
Gallery