Ontario Tech researchers exploring healthy, active transportation strategies and solutions for urban spaces
Ontario Tech led one of four Canadian delegations funded to complete a study tour in Copenhagen, Denmark
November 10, 2023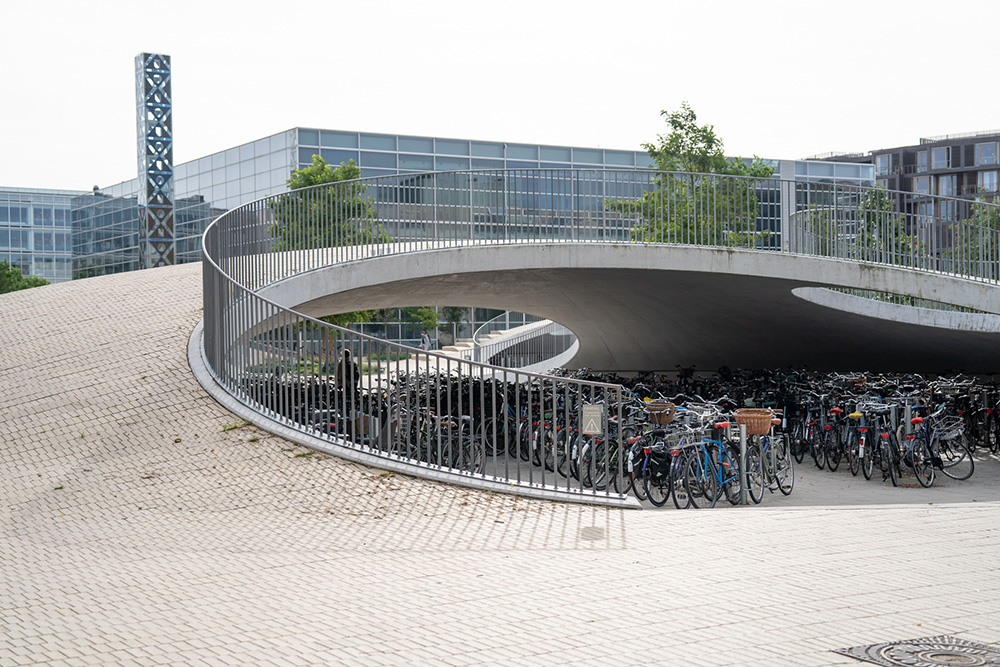 For decades, Canada's population has trended steadily toward a more-urban composition. In 2022, nearly 82 per cent of all Canadians resided in an urban community.
Life in a mid-size city offers a great number of conveniences: services that are close to home, more entertainment opportunities, and sometimes more opportunities for shared cultural experiences. But drawbacks often include a higher cost of living, lack of space, more noise, pollution impacts, and in some cases, significant challenges related to active transportation and commuting. Smaller cities typically do not have the resources or funds to deploy larger-scale solutions to these issues.
What can we do to make cities healthier, more active, and people-centred?
Led by Ontario Tech University Faculty of Health Sciences researcher Dr. Shilpa Dogra, a team from the City of Oshawa and Durham Region recently travelled to Denmark for an international immersive five-day workshop, hosted by the Toronto-based organization 8 80 Cities. 8 80 Cities seeks to create healthier, equitable, and sustainable cities for all people.
Did you know? The motivation for the moniker '8 80 Cities' is based on developing safe, active communities for everyone, whether you are age eight, or at the age of 80.
Ontario Tech was one of four Canadian delegations that explored the city of Copenhagen's success with active transportation initiatives (joining the City of Saskatoon with the University of Saskatchewan; the City of Guelph with Toronto Metropolitan University; and the City of Brandon, Manitoba with Brandon University). Participation was made possible through a Canadian Institutes of Health Research's Healthy Cities Research Initiative. Ontario Tech's application was entitled 'Equitable access to public spaces: Moving mid-sized cities from a car-centric culture to putting people first'. 
Lessons from the Denmark visit
Dr. Dogra shares observations on what the team learned in Copenhagen and how it can be used to create healthy, active, age-friendly, accessible, and inclusive communities here in Canada.
"Copenhagen used to be a car centric city, with little space for bikes or pedestrians. Many of the architects and municipal staff our team met with said very clearly that 'when they were children, they wanted to get out of the city'. Now? Copenhagen is one of the most desirable places to live because getting around is fast and easy. Even those with young and growing families prefer to live in the city. The take-home? We can make changes that transform our communities in just one generation."
"Public spaces are for people, not cars, and adults need to play again. We went to several office buildings, some of which had trampolines and slides inside and outside of the building so that adults could play. The parks were designed to ensure that teenagers and adults could play too. We need to start using public spaces for the public."
"One thing was very clear, regardless of what department the staff were working in within their organization, they were all focused on the same vision. Their current public health strategy? 'Enjoy Life, Copenhageners!' Wouldn't you want to live somewhere where your enjoyment was a priority of the city?"
Dr. Dogra says Canada does some things really well, such as thinking about accessibility and inclusion, and consulting with communities. But we need data and evidence to support and fast-track the changes needed to make mid-size cities friendlier for active transportation.
Next steps: June 2024 day-long workshop at Ontario Tech
The Ontario Tech team will host a learning and networking event on campus in June 2024. The Monday, June 17, 2024 gathering 'Data-driven decisions for healthy, equitable mid-sized cities' will include:
Anyone from any professional background who is interested in the transformation of mid-sized cities is encouraged to sign up for updates on next spring's event.
After the June 2024 event, Dr. Dogra's goals are to work through the PACE Mobility Group and the emerging network of researchers, partners, municipal staff, planners, advocates, and others, to support mid-sized cities in developing evidence-informed and sustainable solutions that can be implemented in their communities.   
Gallery
---
Media contact
Bryan Oliver
Communications and Marketing
Ontario Tech University
289.928.3653 (mobile)
bryan.oliver@ontariotechu.ca