Ontario Tech University building atrium named in honour of Ed and Sylvia Vanhaverbeke
Recognition celebrates local couple's philanthropic commitment to students and more than $1 million in giving to Ontario Tech
November 2, 2023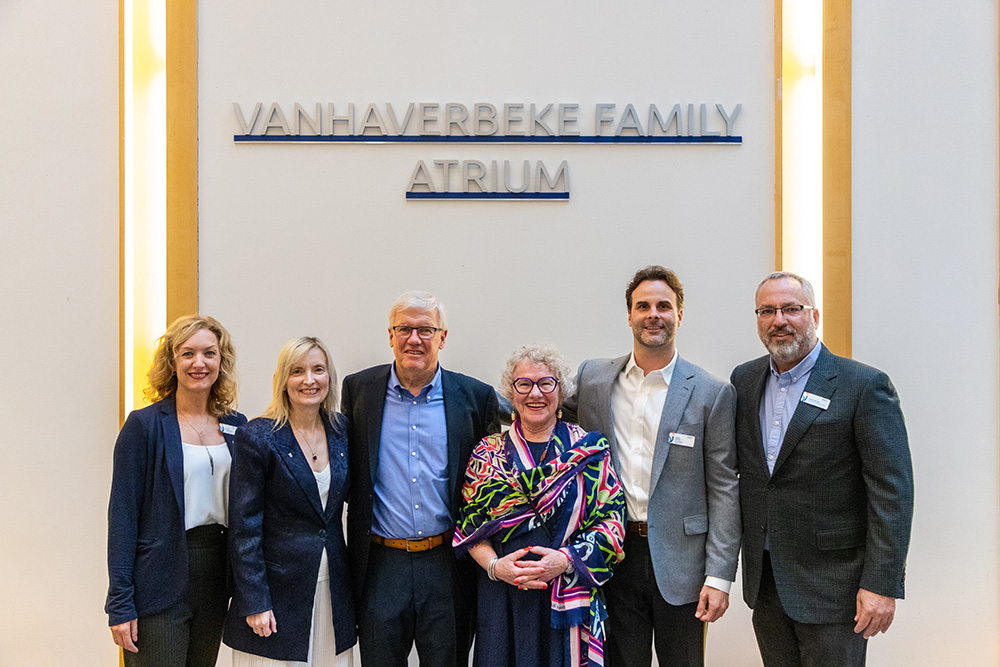 In honour of the generous continued support and philanthropic commitment of Ed and Sylvia Vanhaverbeke to Ontario Tech, the university has named the atrium in the Business and Information Technology building the Vanhaverbeke Family Atrium.
With over $1 million in cumulative giving to Ontario Tech, the Vanhaverbekes have a long history of supporting education and student success. The Vanhaverbeke Family Atrium ribbon-cutting ceremony on October 26 in the home of the Faculty of Business and Information Technology (FBIT) celebrated their most recent gift commitment of $800,000 to support the university's capital fund and FBIT experiential learning initiatives.
The Vanhaverbekes live in Durham Region and believe deeply in the importance of investing in higher education. Their enduring support of Ontario Tech has been demonstrated through major contributions to campus infrastructure and direct student support, including the Vanhaverbeke Entrance Scholarship.
Members of the university's E.P. Taylor Legacy Society, Ed and Sylvia Vanhaverbeke have also made a legacy gift commitment to Ontario Tech, ensuring continued impact on the lives of future generations of university students.
Quotes
"Sylvia and I believe education is extremely important and we're proud to support Ontario Tech and its incredible students. For many people, having a university in Oshawa is the difference between going to university or not. We are so pleased to be connected to Ontario Tech and see our commitment recognized through the Vanhaverbeke Family Atrium naming."
-Ed Vanhaverbeke
"As a scholarship recipient, I have a deep respect for donors. Support for students is what allows us to access resources, seize opportunities, and pursue our passions. The Vanhaverbekes' generous commitment to Ontario Tech is testament to their belief in the potential of students like me."
-Emily Aprile, fourth-year Networking and Information Technology student
"We are grateful to Ed and Sylvia Vanhaverbeke for their significant, long-time support of Ontario Tech. Their ongoing generosity illustrates a strong belief in our students and this institution. Donors make a significant difference in our university and in the lives of our students. We are fortunate to count Ed and Sylvia Vahaverbeke as a vital part of the Ontario Tech community."
-Dr. Steven Murphy, President and Vice-Chancellor, Ontario Tech University
Gallery