UOIT announces new president
April 20, 2006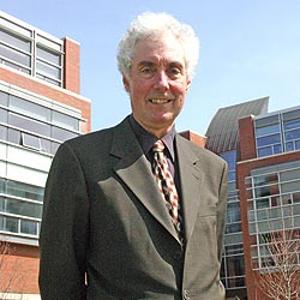 OSHAWA, Ont.
- Former dean of York University's Atkinson College, Dr. Ronald Bordessa has been named new president of Ontario's fastest-growing university, the University of Ontario Institute of Technology (UOIT).
Currently Vice-President, Academic, and Provost at Royal Roads University in Victoria, British Columbia, Dr. Bordessa will officially assume his new position in July, replacing Founding UOIT President Dr. Gary Polonsky. His appointment ends a comprehensive national search which began last summer.
"Our new president brings a wealth of postsecondary administrative knowledge and teaching experience to UOIT," says Lorraine Sunstrum-Mann, board chair of UOIT. "Dr. Bordessa's strong leadership and deep commitment to academic excellence and innovation will continue to build on the outstanding growth and success of UOIT."
Dr. Bordessa began his postsecondary career in the Geography department of Atkinson College at York University teaching at both the undergraduate and graduate levels. He devoted more than 30 years of service to York University and was appointed to various academic administrative positions including program co-ordinator, Urban Studies; department chair, Geography, and Social Work; and associate dean and dean of Atkinson College, renamed Atkinson Faculty of Liberal and Professional Studies. During this time, his research interests earned him widely publicized national and international books and research papers covering many aspects of social life in urban areas, as well as essays on literary studies, environmental issues and politics of land development.
While at Royal Roads University, Dr. Bordessa oversaw the introduction and development of many new programs and initiatives which resulted in significant growth in both domestic and international enrolment, particularly from China.
"I am delighted to have the opportunity to lead UOIT and feel fortunate to bring to it lessons learned from the universities I have been proud to serve. UOIT has burst onto the postsecondary education landscape and made an immediate impact. Already others look to the university for innovation and leadership in research and academic programs," says Dr. Bordessa.
With a passion for human geography, Dr. Bordessa has also been a visiting professor of Geography at the University of Western Australia in Perth and at Helsinki University in Finland. He continues to hold the title of docent at the University of Joensuu in Finland.
Born in Wales, Dr. Bordessa received a BA honours degree in Geography from the University of Wales at Swansea, and a PhD in Geography from Liverpool University. He and his wife, Dr. Mari Peepre have four grown children who have followed career paths in three countries.
For more information, please contact:
Donna McFarlane
Communications and Marketing
905.721.3111 ext. 2952
donna.mcfarlane@dc-uoit.ca
---
About Ontario Tech University
A modern, forwarding-thinking university, Ontario Tech advances the discovery and application of knowledge to accelerate economic growth, regional development and social innovation. We inspire and equip our students and our graduates to make a positive impact in a tech-focused world. For us, it's not only about developing the next tech breakthrough. Understanding and integrating the social and ethical implications of technology differentiates us as university. Learn more at ontariotechu.ca.
---
Media contact
Heather Middleton
Communications and Marketing
Ontario Tech University
905.721.3111 ext. 2197
heather.middleton@dc-uoit.ca