UOIT professors awarded as Fellows of the Engineering Institute of Canada
April 5, 2010
Two professors recognized for exceptional contributions to engineering in Canada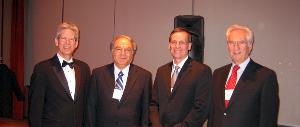 The Engineering Institute of Canada (EIC), the country's first and oldest engineering society, has awarded two University of Ontario Institute of Technology (UOIT) professors with prestigious distinctions as EIC Fellows.
Dr. Ebrahim Esmailzadeh, a professor, and Dr. Greg Naterer, associate dean for Research and Graduate Studies and a professor, both with the UOIT Faculty of Engineering and Applied Science, were inducted as Fellows during the EIC's annual awards banquet on February 27 in Ottawa.
Founded in 1887, the EIC isa federation of twelve member engineering societies in Canada, which encompass all fields of engineering.
"It is a great honour to be selected as a Fellow of the EIC, because it has a special and uniqueprestige amongst Canadian engineers," says Dr. Greg Naterer, a Tier 1 Canada Research Chair in advanced energy systems whose research contributions involve the design of energy systems, heat transfer and fluid mechanics. "There are currently about 20,000 members of EIC, of which up to 20 Fellows at most can be selected annually. I'm grateful to colleagues and students with whom I have workedover the years, and who made it possible for me to receive this honour."
Dr. Naterer has previously received the first UOIT Research Excellence Award and a Best Professor teaching award, among other awards and honours.
Dr. Esmailzadeh is a professor of mechanical engineering and the founding engineering programs director at UOIT. He is an adjunct professor at the Universities of Toronto, Waterloo and Concordia, and prior to that was a distinguished professor at Sharif University and an exemplar professor of universities in Iran. His contributions to research and innovation in modeling complex engineering problems have earned him renowned recognition in the engineering and scientific research communities.
The Ottawa presentations were made by Dr. Marc Rosen, a UOIT engineering professor who is currently EIC president and was founding dean of the UOIT's Faculty of Engineering and Applied Science.
"It was truly a delight for me to be able to give Greg and Ebrahim their Fellowship certificates at the EIC Awards Gala, in front of many other eminent and storied engineers," says Dr. Rosen. "A great deal of prestige is brought to UOIT through having such wonderful recognition afforded to both of them. The grade of Fellow represents less than 0.1 per cent of the combined membership of all EIC member societies." Dr. Rosen goes on to say "The honour requires exceptional contributions to coincide with the vision of the EIC: Engineering, for a prosperous, safe and sustainable Canada."
---
About Ontario Tech University
A modern, forwarding-thinking university, Ontario Tech advances the discovery and application of knowledge to accelerate economic growth, regional development and social innovation. We inspire and equip our students and our graduates to make a positive impact in a tech-focused world. For us, it's not only about developing the next tech breakthrough. Understanding and integrating the social and ethical implications of technology differentiates us as university. Learn more at ontariotechu.ca.