UOIT students celebrate first day at downtown Oshawa campus
Pomp and circumstance as Regent Theatre doors open for university event
September 9, 2010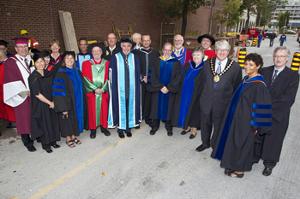 OSHAWA, ON. - Hundreds of students, staff and faculty arrived en masse to downtown Oshawa today as the University of Ontario Institute of Technology (UOIT) held a special ceremony at the Regent Theatre to officially welcome students to their new urban campus. Guests were greeted by Student Association President, Anthony Boland and Faculty of Social Science and Humanities student, Rachel Calvelli. UOIT's Dr. Ronald Bordessa, president, Dr. Richard Marceau, provost, Dr. Nawal Ammar, dean and Mayor John Gray were also on hand to welcome the students.
"Today is a historic day for UOIT as we celebrate this significant milestone," said Dr. Bordessa. "Our new downtown campus is rich with promise and potential. Together the university, our students and the city will create a welcome environment for all to work, live, play and study. We look forward to many more years of collaboration with the city as we work together to build a better, stronger and more vital Oshawa."
More than 1,300 students and faculty will study and work at the new campus as the Faculty of Social Science and Humanities joins the Faculty of Education in downtown Oshawa. Students will move between 55 Bond Street East, the Regent Theatre, 61 Charles Street, McLaughlin Square at 50 Richmond Street and the CIBC building at 2 Simcoe Street North to attend classes and labs and have access to important student services.
In 2008 the Faculty of Education was warmly received downtown when it moved to a refurbished building at 11 Simcoe Street North. Earlier last week the Faculty of Social Science and Humanities moved into the new 2,787-square-metre, five-storey building at 55 Bond Street East and will occupy 61 Charles Street when the winter semester begins in January 2011. Students will start attending classes at the downtown Oshawa campus on Monday, September 13.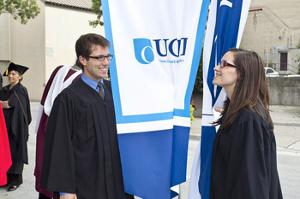 Formerly used as retail space, three mall-level units at McLaughlin Square will house student services for the Faculty of Education and the Faculty of Social Science and Humanities. These services include the Student Experience Centre, Registrar's office, and a prayer room.
A dedicated floor at 2 Simcoe Street South will provide close to 743 square metres of space used predominantly for research but will also include some office space and the University-Community Link Unit (CLU). This space will also house UOIT's psychology labs, which were originally slated for the Genosha Hotel, and a Media and Communication lab where undergraduate and graduate students can take part in faculty-led research projects.
Linking the Regent Theatre with 55 Bond Street, students, staff, faculty and community members will enjoy a new beautifully landscaped urban park this spring. Plans are underway to transform Victoria Street into a recreation area that will include a walkway, external seating, a small stage area for outdoor entertainment and possibly a farmers market.
---
About Ontario Tech University
A modern, forwarding-thinking university, Ontario Tech advances the discovery and application of knowledge to accelerate economic growth, regional development and social innovation. We inspire and equip our students and our graduates to make a positive impact in a tech-focused world. For us, it's not only about developing the next tech breakthrough. Understanding and integrating the social and ethical implications of technology differentiates us as university. Learn more at ontariotechu.ca.
---
Media contact
Melissa Levy
Communications and Marketing
Ontario Tech University
905.721.8668 ext. 2513
289.928.0268
melissa.levy@uoit.ca