Ontario Tech University's Dr. Carolyn McGregor speaks about Big Data at international IBM conference
October 24, 2011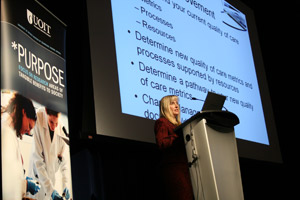 Ontario Tech University's Dr. Carolyn McGregor, Canada Research Chair in Health Informatics, was among the distinguished panellists taking part in the IBM Information on Demand Conference in Las Vegas, Nevada on October 25 (please check this link for the webstream - Dr. McGregor's segment appears at 1:19:53 and lasts for about 13 minutes). During her session in front of an audience of about 10,000 delegates, Dr. McGregor was interviewed by Katty Kay, journalist and anchor for BBC News, Washington, D.C. about her future research directions in health care. 

Dr. McGregor, professor and associate dean of Research, Faculty of Business and Information Technology and cross-appointed with the Faculty of Health Sciences, is leading the Artemis Project, a first-of-its-kind neonatal health informatics research project that she is leading with IBM, The Hospital for Sick Children in Toronto, Ontario and other partners around the globe. Critical care units around the world boast state-of-the-art medical equipment that constantly monitor vital organs. However, these units have arrived at a critical crossroad because the ability of the equipment to gather information has outpaced the ability to aggregate and interpret the data in a clinically meaningful way.
Through the Artemis Project, Dr. McGregor's research is helping make sense of the constant stream of data collected from critically ill premature babies so that doctors in the future will be able to better recognize subtle changes in a patient's condition. With physicians having the information they need to intervene more quickly, there is a great hope for reducing mortality rates in premature babies here in Canada and around the world.