Learn more about the 30 per cent tuition grant February 8
February 6, 2012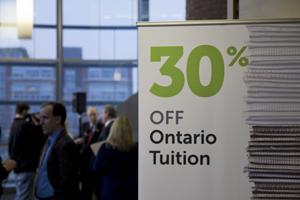 On Wednesday, February 8 representatives from the Ministry of Training, Colleges and Universities will be on campus to promote the new 30 per cent off Ontario tuition grant. Students can drop by the booth located in the Business and Information Technology building Cafeteria between 8 a.m. to 4 p.m. to get their applications started or answers to any questions they have.
Applications are now being accepted for the grant. Students who receive OSAP don't need to do anything – they will automatically receive the grant.  For more information, visit www.ontario.ca/30off or call the tuition grant hotline at 1.888.449.4478.
Starting in January, eligible university students will receive $800 – an amount pro-rated for one semester, covering the second half of the school year. In September 2012, eligible students will be reimbursed $1,600 of their yearly tuition.