UOIT celebrates first Tier 1 Canada Research Chair renewal
Government of Canada invests in research excellence at Canadian universities, creating jobs and economic growth
March 13, 2012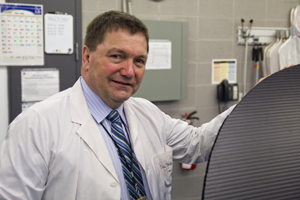 OSHAWA, ON - The University of Ontario Institute of Technology's (UOIT) first-ever Tier 1 Canada Research Chair (CRC) has become the university's first faculty member to have a CRC renewed for a new term.
Dr. Douglas Holdway, professor, Faculty of Science, is receiving this honour to continue pursuing his leading-edge research in Aquatic Toxicology. His research will provide environmentalists with the necessary tools to lessen the impact that toxins have on aquatic life, while developing and applying new biological methods for monitoring and investigating the impact of chemicals in contaminated water on aquatic organisms. The value of the CRC is $1.4 million over a seven-year period through May 2018.
The funding announcement was made in Ottawa by the Honourable Gary Goodyear, Minister of State for Science and Technology.
"The Government of Canada is committed to investing in research programs that continue to have a positive effect on Canada's economy and that touch the lives of Canadians," said Minister Goodyear. "Our Government is staying focused on what matters – creating jobs and economic growth. By supporting innovation, we are not only encouraging cutting-edge research but also helping bring promising ideas to the marketplace to keep our economy strong in the future."
"The Canada Research Chairs Program helps to position Canadian post-secondary institutions as world-class research centres," said Chad Gaffield, president of the Social Sciences and Humanities Research Council and chair of the Canada Research Chairs Program Steering Committee. "With this funding support, researchers are gaining insight about, and developing innovative solutions to today's social, health and economic issues, and are training the next generation of top scientists and scholars."
"A major component of UOIT's mission is to advance the highest quality research, and through his Canada Research Chair Dr. Holdway continues to bring distinction to our university," said Dr. Tim McTiernan, UOIT president. "He is recognized by his peers as an international leader in aquatic toxicology. His first Canada Research Chair in 2005 helped create more opportunities for undergraduates to perform related research and also spurred the development of a graduate program in the field at UOIT."
"I am delighted to see the chair renewed and be given the opportunity to build on the exciting research partnerships and initiatives that we've developed over the past seven years," said Dr. Holdway. "One recent example is UOIT's role in the Southern Ontario Water Consortium and the associated investigations of the impact of sewage treatment plant effluents on aquatic organisms. This represents one of the new directions we are pursuing: the impact of pharmaceuticals and personal care products (PPCPs) on fish survival, growth and reproduction."
In total, $124.5 million will be allocated among 132 newly awarded or renewed Canada Research Chairs to undertake new, cutting-edge research at 36 Canadian post-secondary institutions. This federal investment allows Canadian institutions to strengthen their position as global leaders in research and development, bringing greater economic opportunities for Canadians.
Details on the CFI's funding for research infrastructure associated with the new Chair awards are available on the CFI website.
---
About Ontario Tech University
A modern, forwarding-thinking university, Ontario Tech advances the discovery and application of knowledge to accelerate economic growth, regional development and social innovation. We inspire and equip our students and our graduates to make a positive impact in a tech-focused world. For us, it's not only about developing the next tech breakthrough. Understanding and integrating the social and ethical implications of technology differentiates us as university. Learn more at ontariotechu.ca.
---
Media contact
Bryan Oliver
Communications and Marketing
Ontario Tech University
905.721.8668 ext. 2209
bryan.oliver@uoit.ca