Ontario Tech University celebrates two NSERC Chair programs
May 18, 2012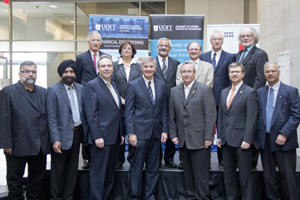 OSHAWA, ON – Thanks to ongoing research partnerships with the Natural Sciences and Engineering Research Council of Canada (NSERC), Ontario Power Generation (OPG) and the University Network of Excellence in Nuclear Engineering (UNENE), Ontario Tech University is proudly celebrating two of its NSERC Chair programs.
Through the NSERC-UNENE Industrial Research Chair (IRC) in Health Physics and Environmental Safety, Ontario Tech University's Faculty of Energy Systems and Nuclear Science (FESNS) has established itself as an internationally recognized centre of research excellence in health physics and radiation measurement technology. The renewal of the NSERC-OPG Chair in Innovative Design Engineering will continue to make substantial contributions toward improving Canada's capacity in design engineering through full integration of the innovative design concepts, tools and applications of the Manufacturing, Mechanical and Automotive Engineering undergraduate programs offered by Ontario Tech University's  Faculty of Engineering and Applied Science (FEAS).
"In only 10 short years, Ontario Tech University has established itself as a university that is on the leading edge of research and development. The Chairs we are celebrating today play a significant role in building the expertise necessary to meet Canada's innovation goals," said Suzanne Fortier, NSERC president. "The NSERC Industrial Research Chair in Health Physics and Environmental Safety, led by Dr. Anthony Waker, is developing new advancements to keep Canada's nuclear energy sector operating with the highest quality of safety and efficiency. Meanwhile, the renewal of Dr. Remon Pop‑Iliev's Chair in Innovative Design Engineering for a second term is introducing design training to every engineering department at the university and providing students with the skill sets companies seek to remain globally competitive."
"These Chairs underscore  Ontario Tech University's unwavering commitment to research excellence and our focus on both fundamental and applied research that directly impacts end-users, whether they are a local business or a multinational organization," said Dr. Richard Marceau, Ontario Tech University provost and vice-president, Academic. "With the essential support of our research partners, Ontario Tech University has embarked on a collaborative path to turn innovative ideas into real solutions. We look forward to breaking new ground and driving innovative research outcomes together in the years ahead."
Chaired by Dr. Anthony Waker, professor, FESNS, with Dr. Edward Waller, professor, FESNS as associate chair, the IRC in Health Physics and Environmental Safety has helped Ontario Tech University build a comprehensive research program and develop a pool of highly trained professionals to support the requirements and programs of the Canadian nuclear industry, including the establishment of masters-level, doctoral and post-doctoral studies. Research has focused on a variety of disciplines, including:
Designing, constructing and evaluating innovative devices for real-time and remote measurements of complex radiation fields;
Advancing the state of knowledge and capacity for computer simulation of real-world radiation events and hazards;
Promoting interdisciplinary collaboration on nuclear and radiation safety-related research with traditional engineering activities such as robotics; and
Involvement in international research activities aimed at the training of early-stage researchers in advanced dosimetry methods and techniques.
The five-year NSERC-UNENE Industrial Research Chair in Health Physics and Environmental Safety is valued at just under $2 million with NSERC providing $999,800 in operational and salary components and UNENE contributing $1 million in cash.
The NSERC-OPG Chair in Innovative Design Engineering was established in 2005 and formally renewed in December 2011 for five years. The Chair is valued at $2 million, with NSERC providing $1 million in operational and salary components and OPG, UOIT and FEAS contributing a matching $1 million in cash and in-kind support. The chairholder is Dr. Remon Pop-Iliev, professor, Faculty of Engineering and Applied Science (FEAS). The co-chair is Dr. Vijay Sood, associate professor, FEAS, and the associate chair is Mr. John Froats, associate professor and nuclear engineer In Residence, FESNS. 
During the first term, the Chair has provided for the establishment of the Centre for Innovative Design Engineering and Research (CIDER) at UOIT and facilitated the introduction and propagation of distinctive educational approaches aimed at training engineers to meet emerging needs for innovative products, processes, technologies and services. A design-intensive undergraduate Mechanical, Manufacturing and Automotive Engineering programs curriculum has been developed in Ontario Tech University's technology-enriched learning environment around three core design courses and five, two-part program-specific Capstone design courses. Going forward, this Chair will provide for an extension to the undergraduate Electrical and Software Engineering programs offered by FEAS and to the Nuclear and Energy Systems Engineering programs offered by FESNS. 
About NSERC
NSERC is a federal agency that helps make Canada a country of discoverers and innovators for all Canadians. The agency supports some 30,000 post-secondary students and postdoctoral fellows in their advanced studies. NSERC promotes discovery by funding more than 12,000 professors every year and fosters innovation by encouraging about 2,000 Canadian companies to participate and invest in post-secondary research projects.
About UNENE
The University Network of Excellence in Nuclear Engineering (UNENE) is a Canadian based alliance of universities, nuclear power utilities, research and regulatory agencies for the support and development of nuclear education, research and development capability in Canadian universities. UNENE was established as a not-for-profit corporation in 2002 (www.unene.ca).
About OPG
Ontario Power Generation (OPG) is an Ontario-based electricity generation company whose principal business is the generation and sale of electricity in Ontario. Its focus is on the efficient production and sale of electricity from our generation assets, while operating in a safe, open and environmentally responsible manner.
OPG's generating portfolio has a total capacity of over 19,000 megawatts (MW) making it one of the largest power generators in North America. Generating assets include:
2 nuclear generating stations;
5 thermal generating stations; and
65 hydroelectric generating stations.
OPG also owns two other nuclear generating stations which are leased on a long-term basis to Bruce Power L.P.
OPG also annually purchases approximately $1 billion in goods and services from primarily Ontario-based suppliers and contributes to the province in taxes, dividends and other payments.
---
About Ontario Tech University
A modern, forwarding-thinking university, Ontario Tech advances the discovery and application of knowledge to accelerate economic growth, regional development and social innovation. We inspire and equip our students and our graduates to make a positive impact in a tech-focused world. For us, it's not only about developing the next tech breakthrough. Understanding and integrating the social and ethical implications of technology differentiates us as university. Learn more at ontariotechu.ca.
---
Media contact
Bryan Oliver
Communications and Marketing
Ontario Tech University
905.721.8668 ext. 2209
bryan.oliver@ontariotechu.ca