MDC free seminar March 14: An insider's perspective on the not-for-profit sector
March 1, 2013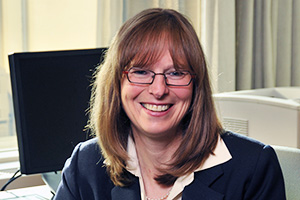 One of Canada's leading authorities on the not-for-profit (NFP) sector will be keynote speaker at a free public seminar on Thursday, March 14 hosted by the Management Development Centre (MDC) at the University of Ontario Institute of Technology (UOIT).
Katharine Schmidt, Executive Director, Food Banks Canada, will share her experiences as she led Food Banks Canada through an extensive restructuring and brand renewal process, enabling it to better achieve its mandate of reducing hunger in Canada.
Schmidt's seminar is entitled The Not-For-Profit Sector – An Insider's Perspective. The presentation will be followed by questions and discussion with a panel of NFP business experts.
The seminar will take place at the Regent Theatre (50 King Street East, Oshawa, Ontario) from 6 to 8 p.m. Admission is free. A non-perishable food item would be greatly appreciated and all items will be donated to Feed the Need in Durham.
RSVP: Register online or email www.mdc@uoit.ca.
About Katharine Schmidt, MBA
Katharine Schmidt's heart led her to the role of Executive Director four years ago as it provided an opportunity to be a change agent for the food bank sector. Since joining Food Banks Canada, Schmidt has led the organization through an extensive organizational restructuring and brand renewal process, enabling it to better achieve its mandate of reducing hunger in Canada by addressing both the short-term need for food and longer-term solutions.
This renewal has resulted in a six-fold increase in the organization's annual investment in support to food banks, doubled the amount of donated food acquired sharing 6.7 million kilograms with Canadians and has put Food Banks Canada on the map with public and government.
Over the past 25 years, her professional accomplishments have focused on organizational management, capacity building and policy and advocacy development and implementation in business, government, non-profit and charitable organizations. She has worked at a senior level with stakeholders in the agri-food industry including producers, processors, distributors and retail and food services.
Schmidt holds a Master in Business Administration degree from Wilfrid Laurier University in Waterloo, Ontario and a Bachelor of Applied Science (Family Studies Major) from the University of Guelph in Ontario.