Sculpture dedication symbolizes UOIT's first decade of achievement
Gate to the Future sculpture designed to inspire student dreams
April 18, 2013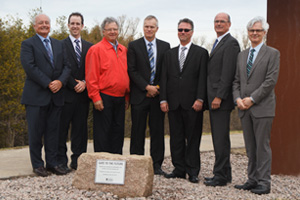 OSHAWA, ON – As part of the University of Ontario Institute of Technology's (UOIT) 10th anniversary celebrations, the university has dedicated an iconic new sculpture at its north Oshawa location.
Designed by renowned Quebec artist André Fournelle, Gate to the Future will serve as a visual reference and campus focal point, embodying the harmonious relationship between art and technology, form and function. The work which is also intended to inspire and spark youthful minds to dream their dreams has been donated to UOIT by Great-West Life, London Life and Canada Life.
"UOIT shares the belief of our generous and supportive donors that art is one of the best instruments to encourage students to pursue unique ideas and innovative thought processes to become citizen leaders," said Dr. Tim McTiernan, UOIT President and Vice-Chancellor. "We are building a university that is fully engaged with the community and cultural reference points like Gate to the Future help anchor those ties and underscore our vision for making the future a better place."
"It's an honour to share in UOIT's historic milestone through the dedication of Gate to the Future," said Mike Murphy, Regional Director, London Life and representative of the overall donor group. "We believe André Fournelle's sculpture represents a call for critical thinking and encourages people to see different perspectives. Universities enable knowledge creation and foster research to find answers to the challenges of today, and the questions society will face in the future – aims that align with Great-West Life's vision of building Stronger Communities TogetherTM."
The visual signal of Gate to the Future is composed of several design elements:
Archway - symbolizes the gate to the future.
Central Vertical Cupola - means transformation.
External Cupola - represents the radiance of research towards knowledge.
"For Gate to the Future I was inspired by the music and sound records sent into space in 1977 by NASA on the Voyager spacecraft," said André Fournelle. "Those recordings were selected to portray the diversity of life and culture on Earth and intended for any intelligent extraterrestrial life form who may find them. The reference to records explains the Cupola covered with gold leaf and this links with the University of Ontario Institute of Technology whose vocation is the promotion of creative, technical and scientific knowledge and research."
The sculpture's east/west orientation along the Avenue of Champions (behind the Automotive Centre Excellence) provides the best reflection of sunlight from the Central Vertical Cupola. The view to the east offers a panoramic view of the university and all achievements to date, while the western view of undeveloped land symbolizes the potential for UOIT's future growth.
About UOIT
The University of Ontario Institute of Technology (UOIT) advances the discovery and application of knowledge through a technology-enriched learning environment and innovative programs responsive to the needs of students, and the evolving 21st-century workplace. With more than 9,200 undergraduate and graduate students enrolled in 70 programs delivered by exceptional faculty, UOIT promotes social engagement, fosters critical thinking and integrates outcomes-based learning experiences inside and outside the classroom. UOIT's commitment to accelerating economic growth and social innovation is realized through research collaborations with leading organizations such as Ontario Power Generation, The Hospital for Sick Children (SickKids) and the Durham Regional Police Service. UOIT will mark its 10th anniversary on September 4, 2013. To find out more, visit uoit.ca.
About Great-West Life
Founded in Winnipeg in 1891, Great-West Life is a leading Canadian insurer. Together with its subsidiaries, London Life and Canada Life, Great-West Life offers a broad portfolio of financial and benefit plan solutions and serves the financial security needs of more than 12 million people across Canada. With more than two decades as an Imagine Caring Company – and $11.9 million in charitable contributions in 2012 through its national corporate citizenship program – Great-West Life supports a broad range of initiatives, including many in arts and culture, community development and education.
About André Fournelle  
For the past forty years, André Fournelle has been a prolific artist exhibiting sculptures across Canada and around the world. Fournelle has followed a personal creative path where the leading idea is the search of light, be it fire, neon, laser or fibre optic. He has created in several public spaces and parks, permanent installations and huge art monuments with reference to the four natural elements, water, earth, air and fire.
Fournelle's works are based on a philosophy centred on materials and their various transformations over time. He is recognized for his use of a wide variety of media, including steel, iron, concrete, fibreglass, granite and wood. One of his many strengths is working with other people in teams. These teams are formed not only of other artists but very often include engineers and architects. One such example is a monumental installation which can be seen at the entry to the city of Gatineau, Québec. Entitled Réflexion, it won Le prix Télé-Québec (Les arts et la ville) in 2007.