MDC hosting INNOVATION 2013: The Next Wave of Digital Media
May 31, 2013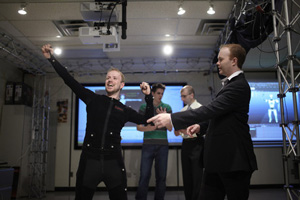 Cloud computing, virtual and augmented reality, big data, serious gaming, social media: the next wave of digital technology is here, and its impact on the business world will be profound.
To help business professionals, managers and entrepreneurs prepare for this next wave and understand its implications, the Management Development Centre (MDC) at the University of Ontario Institute of Technology (UOIT) is hosting INNOVATION 2013, a one-day conference on Friday, June 14, from 9 a.m. to 3:30 p.m.
Learn from high-profile keynote speakers who will discuss the future and relevant business implications of digital media.
Take part in interactive workshops featuring technologies such as cloud computing, big data, virtual and augmented reality, social media, trust, serious gaming and more.
Network with peers and business professionals from Durham Region, Northumberland County, York Region, and the City of Toronto, who understand how vital it is to keep up with the digital trends of the 21st century.
INNOVATION 2013 is a low-cost conference ($55, plus HST) which features a convenient location, free parking and a networking lunch.
Space is limited. Register today at the INNOVATION 2013 website.
For more information, contact the MDC at UOIT's Faculty of Business and Information Technology at 905.721.8668, ext. 3290.