Ontario Tech University-led Artemis Project gets support from TD Bank fundraiser
November 20, 2013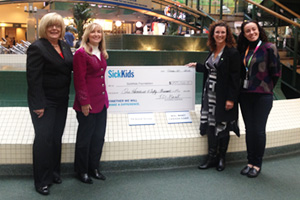 For the fourth straight year, the pioneering research work of Dr. Carolyn McGregor at Ontario Tech University has received a significant boost through a donation by TD Bank.
Following its annual fundraising golf tournament in June 2013, TD Bank recently presented a cheque for $150,000 to the SickKids Foundation. Part of the proceeds will support Dr. McGregor's Artemis Project, a first-of-its-kind neonatal health informatics research project involving UOIT in Oshawa, Ontario; The Hospital for Sick Children (SickKids) in Toronto, Ontario; IBM; and other research partners around the globe.
"I am very honoured that this team within the TD Bank Group has made such a long-term and strategic commitment to support our Artemis research," said Dr. Carolyn McGregor, Canada Research Chair in Health Informatics and Professor, Faculty of Business and Information Technology, UOIT. "It has given us the opportunity to grow our research team much faster than we had imagined and enabled us to start to investigate how to improve clinical outcomes using 'big data' techniques across a much broader range of conditions that we were initially able to do. " 
Artemis research is helping make sense of the constant stream of data collected from critically ill premature babies so that doctors in the future will be able to better recognize subtle changes in a patient's condition. With physicians having the information they need to intervene more quickly, there is a great hope for reducing mortality rates in premature babies here in Canada and around the world.
The Artemis Project applies a 'big data' approach to collecting, distributing and processing real-time physiological data at high speed. Her diverse research team, which includes neonatologists, emergency physicians, nursing staff and computer scientists and engineers, has created a cloud-based platform capable of processing more than 1,200 physiological readings a second, per patient, across multiple patients in multiple locations.
At the 2013 golf fundraiser, Artemis outlined an exciting new project to better understand the impact of several drugs on premature infants, and also announced the TD IT Research Fellowship. The inaugural recipient, Dr. Nadja Mench-Bressan will work at UOIT with Dr. McGregor and with Dr. Andrew James from SickKids to lead this innovative research agenda.
In her Ph.D. research, Dr. Mench-Bressan developed the first supervised targeted controlled infusion system for anesthesia that has been used in Portugal and England to control and synchronized data during general anesthesia enabling targeted drugs dosage. Through her postdoctoral research, she entered the world of the care of the premature and ill newborn infant by working with Dr. McGregor to propose extensions to the Artemis platform to incorporate information relating to various drugs used in neonatal intensive care. Dr. Mench-Bressan will advance research using these new techniques and platforms to investigate what the premature- and ill-term infants' bodies do to process various drugs and the impact these drugs have on their tiny and fast-developing bodies.
The funds from TD Bank Group have also enabled Artemis to start researching in new areas relating to blindness in premature infants, premature infant instability due to apnea, spells and pain.