FBIT faculty member receives the IFIP Silver Core award
February 19, 2014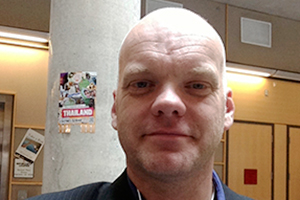 Dr. Stephen Marsh, Assistant Professor, Faculty of Business and Information Technology (FBIT), has been awarded the International Federation for Information Processing (IFIP) Silver Core award for his service to the organization. The award is conferred on those who have served IFIP as General Assembly members, committee officers, members of IFIP Congress Program committees, and editors of IFIP conference proceedings. The required length of service varies with the role.
In 2007 Dr. Marsh was appointed the first Secretary of IFIP's Working Group 11.11: Trust Management (IFIPTM); he has been re-elected to that role every three years since then. He was also the Co-Program Chair of the first IFIPTM Trust Management conference in New Brunswick in 2007 and has been active with the conference every year since then, as General Chair in 2010, and Instructor at the Summer School in 2011, 2012 and 2013. He also initiated the annual William Winsborough Award for IFIPTM in 2012 for services to Trust Management.
He has been the Canadian Representative for IFIP Technical Committee (TC) 11 on Security and Privacy in Information Processing Systems since 2011. His duties include reporting to the Canadian Information Processing Society, and being on the IFIP TC 11 Information Security and Privacy Conference committee. He hopes to bring the conference to Canada in the next few years.
He is also Editor-in-Chief of the new Journal of Trust Management, which is affiliated with IFIPTM.