Federal budget initiatives align with UOIT's research priorities
February 11, 2014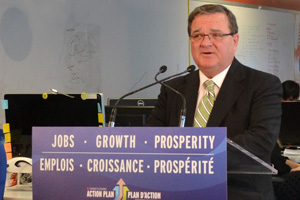 OSHAWA, ONTARIO – The University of Ontario Institute of Technology (UOIT) is pleased to see how new federal funding for research and innovation fits with UOIT's research and development priorities. This new funding for innovative university research initiatives was announced in the Federal Budget on February 11 by the Honourable Jim Flaherty, Finance Minister and Member of Parliament for Whitby-Oshawa.
"This budget includes a significant increase in university research which, in a time of fiscal restraint, is a clear indication of the government's continued commitment to invest in the future," said Dr. Michael Owen, Vice-President, Research, Innovation and International, UOIT. "Initiatives such as the Canada First Research Excellence Fund and expanded support of the granting councils and Mitacs [an organization that creates linkages among industry and graduate students and postdoctoral fellows] will contribute to the success of our researchers and support our engagement with community organizations and industry partners."
Relevant research with community and industry applications is a cornerstone of UOIT's mandate. The university has five prestigious Canada Research Chairs, with another six in development, and five industrial research chairs.
UOIT's research is focused on six priority areas, all of which emphasize the university's multidisciplinary focus on the market and our communities: Advanced Manufacturing for 21st Century Innovation; Energy and the Environment; Human Health and Community Wellness; Information and Communications Technology and Informatics; Life Sciences and Biotechnology; and Education for the 21st Century.
About UOIT
The University of Ontario Institute of Technology (UOIT) advances the discovery and application of knowledge through a technology-enriched learning environment and innovative programs responsive to the needs of students, and the evolving 21st-century workplace. With more than 9,600 undergraduate and graduate students enrolled in 75 programs delivered by exceptional faculty, UOIT promotes social engagement, fosters critical thinking and integrates outcomes-based learning experiences inside and outside the classroom. UOIT's commitment to accelerating economic growth and social innovation is realized through research collaborations with leading organizations such as Ontario Power Generation, The Hospital for Sick Children (SickKids) and the Durham Regional Police Service. To find out more, visit uoit.ca.
---
Media contact
Melissa Levy
Communications and Marketing
Ontario Tech University
905.721.8668 ext. 6733
289.928.0268
melissa.levy@uoit.ca