Ontario Tech University collaborative research projects helping drive IBM-led cloud analytics platform
February 12, 2014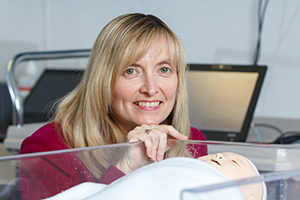 It all began less than two years ago. IBM and seven Ontario universities, including the Ontario Tech University, joined the government and private-sector leaders to create a new kind of collaborative research partnership. It was to be a powerful consortium that would collectively tap into the latest high-performance computing technology to find answers to vital scientific questions facing society.
In early 2012 it was still nothing more than a concept. Today, the Southern Ontario Smart Computing Innovation Platform (SOSCIP) is helping power more than 40 individual research endeavours, the majority which involves intensive collaboration with partners in the private sector. Many SOSCIP projects connect to Blue Gene/Q, Canada's most powerful supercomputer (housed at the University of Toronto), which provides software tools designed for big data analytics.
Two Ontario Tech University-led research projects are among 14 high-impact collaborations across the province profiled in the 2014 SOSCIP Impact Report. Details of a third Ontario Tech University-SOSCIP project have just been finalized.
The SOSCIP Impact Report examines the innovative research of Dr. Carolyn McGregor, Ontario Tech University's Canada Research Chair in Health Informatics. Dr. McGregor leads the award-winning Artemis Project, which is helping make sense of the constant stream of data collected from critically ill, premature babies in neonatal intensive care units. In the future, through her research, doctors will be able to better recognize subtle changes in a patient's condition, giving them the information they need to intervene more quickly. Artemis offers great hope for reducing mortality rates in premature babies in Canada and around the world. At the same time, cloud-based streaming analytics can help bring the sophistication of urban teaching hospitals to remote communities globally and extend the early detection of infections to adults in intensive care.
Also highlighted in the Impact Report is the research of Dr. Isaac Tamblyn, Ontario Tech University Faculty of Science, who is seeking to build a better leaf. Dr. Tamblyn's project Creating Sustainable Energy from Artificial Photosynthesis is examining water-splitting at a nanoscale level to better understand the chemical and physical properties of these processes. Dr. Tamblyn's research will contribute to the development of clean, renewable, and sustainable sources of energy in Ontario.
"We are delighted that the achievements of researchers at Ontario Tech University will be finding an even greater audience through the SOSCIP Impact Report," said Dr. Michael Owen, Ontario Tech University Vice-President, Research, Innovation and International. "In a very short timeframe, SOSCIP has helped advance remarkable research projects, which have had significant impacts on key sectors of the Canadian economy and society. Ontario Tech University looks forward to advancing new collaborative research opportunities between university researchers and with the public- and private-sector partners in the years ahead." 
The newest Ontario Tech University-SOSCIP collaboration (launching in early 2014) is led by Dr. Fletcher Lu, Faculty of Business and Information Technology. In partnership with Kela Medical Inc. of Whitby, Ontario, Dr. Lu is developing a cloud-based solution to aggregate, analyze and standardize patient-centred universal health records in electronic format using a chip-enabled card. Such cards would be useful for patients who are travelling. The chips would provide multiple health-care providers with an immediate comprehensive patient medical history. It would also maintain consistent and up-to-date information, helping avoid such outcomes as over-medicating or a physician not being aware of conflicting medications.
About SOSCIP
The Southern Ontario Smart Computing Innovation Platform (SOSCIP) is a research consortium established in April 2012. The consortium pairs academic and industry researchers with high-performance computing to analyze big data and fuel innovation leadership in Canada within agile computing, health, water, energy and cities. The consortium members include the IBM Canada Research and Development Centre as well as seven Ontario universities, led by the University of Toronto and Western University. Other participants include McMaster University, Queen's University, Ontario Tech University, University of Ottawa, and the University of Waterloo. 
About Ontario Tech University
Ontario Tech University advances the discovery and application of knowledge through a technology-enriched learning environment and innovative programs responsive to the needs of students, and the evolving 21st-century workplace. With more than 9,600 undergraduate and graduate students enrolled in 75 programs delivered by exceptional faculty, Ontario Tech University promotes social engagement, fosters critical thinking and integrates outcomes-based learning experiences inside and outside the classroom. Ontario Tech University's commitment to accelerating economic growth and social innovation is realized through research collaborations with leading organizations such as Ontario Power Generation, The Hospital for Sick Children (SickKids) and the Durham Regional Police Service. To find out more, visit ontariotechu.ca.
Gallery
---
Media contact
Bryan Oliver
Communications and Marketing
Ontario Tech University
905.721.8668 ext. 6709
289.928.3653
bryan.oliver@ontariotechu.ca