UOIT researcher says wearable technologies now influence global life and culture
Dr. Isabel Pedersen delivers keynote at European wearable technologies conference
February 4, 2014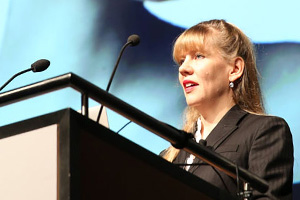 MUNICH, GERMANY – Unprecedented growth in the world of wearable computer devices is a trend that is influencing global culture in the years since Y2K says Dr. Isabel Pedersen, Canada Research Chair (CRC) in Digital Life, Media, and Culture and an Associate Professor at the University of Ontario Institute of Technology (UOIT).
"Since the late 1990s, global cultures have embraced the idea of mobile communication by adopting smartphone technology," says Dr. Pedersen. "This swift transformation has made the concept of wearable computers and, ultimately, the idea of implantable future devices all the more believable."
Dr. Pedersen addressed these issues as keynote speaker at the Wearable Technologies Conference 2014 Europe in Munich, Germany. Her synopsis From Carryables to Wearables to Implantables and Beyond drew on case studies surrounding Google Glass, digital tattoos, exoskeletons and emergent concepts surrounding implantables.
"Fictional scenarios, social media, and digital culture are having an impact on the wearable tech industry," explains Dr. Pedersen. "Popular culture, including film (Minority Report), television (Star Trek), gaming (Deus Ex), comic books (Iron Man) and literature (William Gibson novels) socialize concepts that previously seemed impossible. Gadgets worn on the body will shift reality for us, change how we interact with others, and how we participate in digital culture."
For the past fifteen years, Dr. Pedersen has been immersed in the world of wearable computer devices. In her book Ready to Wear: A Rhetoric of Wearable Computers and Reality-Shifting Media, Dr. Pedersen argues that our technological futures are framed according to what she calls a "continuum of embodiment."   
As one of UOIT's thought-leaders, Dr. Pedersen is interested in how popular film, traditional mythology and social media outlets persuade society to adopt these gadgets. "The inventions promised for the future also bear consequences for humanity in the present."
In addition to her CRC at UOIT, she holds a Social Sciences and Humanities Research Council (SSHRC) grant for her research under the title Wearable | Mobile | Augmented.
Dr. Pedersen is available to comment on other wearable computer trends and topics including:
Digital tattoos ('electronic skin or 'smart skin') what happens to society if humans attach computers to their skin?
Predictive advertising -- When Google used its 'One Day' YouTube video to promote Google Glass, the company ushered in a new form of marketing that uses futuristic narratives and images to sell us a future where technological fantasies become reality.
Augmented memory – a popular concept associated with wearable media where memory devices are created to assist us with our everyday life. But what's at stake when these devices encourage us to collect and store our so- called digital life?  What do we give up when we dehumanize the notion of memory?
---
Media contact
Bryan Oliver
Communications and Marketing
Ontario Tech University
905.721.8668 ext. 6709
289.928.3653
bryan.oliver@uoit.ca