UOIT to store aluminum gates of Windfields Farm
April 25, 2014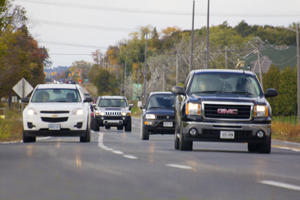 To accommodate the future widening of Simcoe Street North between Conlin Road and Winchester Road, the University of Ontario Institute of Technology (UOIT) will be removing the aluminum gates and white fence at the entrance of the former Windfields Farm on Friday, April 25.
The gates and fence will be safely stored by UOIT until an appropriate new location is determined. Crews have also retained former city Boundary Marker #204 once installed by the City of Oshawa.
Simcoe Street is being expanded to provide greater traffic capacity when the extension of Highway 407 into Oshawa is completed in late 2015.
As plans continue for the future development of the former Windfields Farm through the Campus Master Plan process, the university is committed to the proactive stewardship and preservation of historic components of the property. UOIT is pleased to continue working with its community partners to maintain the legacy of Windfields Farm for future generations.