Campus Library co-hosts Archives Association of Ontario Conference
May 30, 2014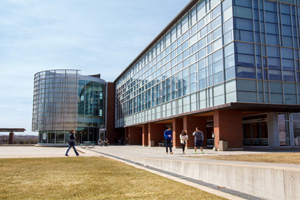 The Campus Library was in the spotlight May 28 to 30 as the host venue for the 2014 Archives Association of Ontario (AAO) annual conference. The Library co-hosted the major gathering of more than 100 attendees and exhibitors from across the province.
"We are proud to have partnered with the Durham Region Area Archives Group to make this three-day event possible," said Dr. Pamela Drayson, University Librarian. "Our organization became the newest chapter of the AAO only two years ago, so this is the first time we've taken on a major conference of this sort. It was a wonderful opportunity for us to showcase the features and capacity of our library system, and welcome so many archivists and local history librarians to our campus."
The Archives Association of Ontario (AAO) was established in 1993 as a result of the amalgamation of the Ontario Association of Archivists and the Ontario Council of Archives. The AAO is a network of archives and archivists providing programs, education, advocacy and shared knowledge, consisting of approximately 300 members. The AAO represents archival institutions, those working in archives, as well as volunteers, patrons, and supporters of archives.