Business and technology experts gathering for UOIT Innovation Conference June 24
June 18, 2014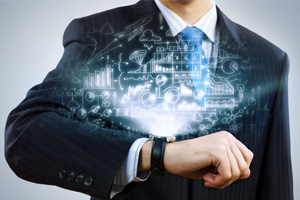 OSHAWA, Ont. – Rapid advances in technology are changing the workplace and the way business is conducted. The University of Ontario Institute of Technology's (UOIT) Faculty of Business and IT (FBIT) is partnering with RBC Royal Bank and RBC Wealth Management to host an exciting innovation conference at UOIT on Tuesday, June 24.
A must for business professionals, Rethinking Management 2020 will empower leaders with relevant new tools and applications, and the required knowledge to keep up with changing technologies. High-profile speakers and industry experts will help business leaders learn how to seize new opportunities to advance their business and reinvent their management style.
External speakers include:
Avi Pollock, Vice-President, Innovation and Strategic Planning, RBC (9:15 a.m.)
John Peddie, President, John Peddie Research (visual information, virtual reality; at 1:15 p.m.)
Karl Korobkin, Vice-President, Business Development, Tobii Technology
Sandy Marshall, Vice-President, Second City Communications
Taimour Zaman, Founder and Global President, One Million Acts of Innovation
Various UOIT faculty members including Dr. Andrew Hogue, Dr. Joseph Krasman and Dr. Julie Thorpe will also share their latest research findings.
Reporters are invited to also check out the immersive technology display and try out the latest sensory glasses – Science Building, Room 1001.
When:
Tuesday, June 24, from 9 a.m. to 3:30 p.m. (best opportunities from 12:30 p.m. onward)
Where:
University of Ontario Institute of Technology, Science Building
2000 Simcoe Street North
Oshawa, Ontario
Parking:
Enter campus off of Simcoe Street or Conlin Road and proceed to Founders Lots 2 and 3.
Media contact:
Melissa Levy
Communications and Marketing
University of Ontario Institute of Technology (UOIT)
905.721.8668 ext. 6733
289.928.0268
melissa.levy@uoit.ca