Ontario Tech University professor receives Australia's highest honour
June 11, 2014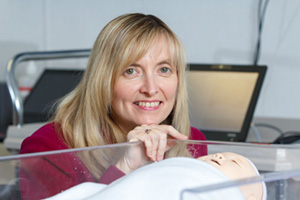 Ontario Tech University is proud to share the news that one of its professors has been named to the Order of Australia, that country's highest civilian honour.
Dr. Carolyn McGregor is a Professor at Ontario Tech University's Faculty of Business and Information Technology. She is also one of Ontario Tech University's Canada Research Chairs, with a focus on the field of health informatics. The Governor-General of Australia noted Dr. McGregor's distinction for significant service to science and innovation through health care information systems.
Since arriving at Ontario Tech University in 2007, Dr. McGregor has been the lead researcher in the Artemis initiative: a first-of-its-kind neonatal health informatics research program. Artemis is international in scope and conducted in collaboration with the IBM Canada Research and Development Centre, The Hospital for Sick Children (SickKids) in Toronto, Ontario, and an expanding group of international partners.
"I am deeply honoured to have received such a prestigious award and am grateful for the support of the University of Ontario Institute of Technology, and the Australian, Canadian, American and Chinese collaborators I have worked within my research," said Dr. McGregor.
"Dr. McGregor's research continues to draw international attention for its quality and potential impact on the quality of life of children," said Dr. Michael Owen, Ontario Tech University Vice-President, Research, Innovation and International. "She is an inspiration to her university colleagues and research partners with her commitment to bringing innovative ideas to life and her efforts to make our world a healthier place."
Artemis background
In the past, physicians recorded basic patient data like pulse and blood pressure on a paper chart at various time intervals. But the explosion of available information and data in the 21st-century world has outpaced the capacity of humans and medical equipment to aggregate and interpret crucial data in a clinically meaningful way. It is this premise that Artemis research is tackling.
Dr. McGregor's research helps physicians make sense of the constant stream of vital organ data collected from critically ill premature babies in neonatal intensive care units (NICUs). Subtle changes in a patient's condition will be more recognizable. With physicians having the information they need to intervene more quickly, there is a great hope for reducing mortality rates in premature babies here in Canada and around the world.
Dr. McGregor's research is supported by grants from several sources including:
Australian Research Council
Canada Foundation for Innovation (CFI)
Canada Research Chairs program
Canadian Patient Safety Institute
IBM First-of-a-Kind Research Award
Natural Sciences and Engineering Research Council (NSERC) of Canada
Ontario Ministry of Research and Innovation (MRI)
Among her many other roles, Dr. McGregor is the Canadian representative for the Institute of Electrical and Electronics Engineers' (IEEE) Engineering in Medicine and Biology Society, and the inaugural representative for IEEE Women in Engineering.
As part of the NASA Mission to Mars in 2030, Dr. McGregor is developing computer systems to monitor the health of astronauts and provide immediate medical assistance.
---
About Ontario Tech University
A modern, forwarding-thinking university, Ontario Tech advances the discovery and application of knowledge to accelerate economic growth, regional development and social innovation. We inspire and equip our students and our graduates to make a positive impact in a tech-focused world. For us, it's not only about developing the next tech breakthrough. Understanding and integrating the social and ethical implications of technology differentiates us as university. Learn more at ontariotechu.ca.
---
Media contact
Bryan Oliver
Communications and Marketing
Ontario Tech University
905.721.8668 ext. 6709
289.928.3653
bryan.oliver@ontariotechu.ca