The making of an Internet meme: Dr. Laura Pinto's Elf on the Shelf piece hits a nerve
December 17, 2014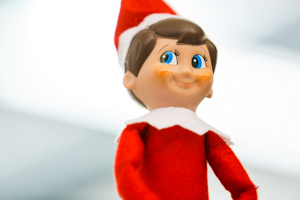 When Dr. Laura Pinto, Assistant Professor, Faculty of Education, University of Ontario Institute of Technology (UOIT) and her colleague Dr. Selena Nemorin of Monash University in Melbourne, Australia published a playful opinion piece and video about popular Christmas-themed toy Elf on the Shelf, they didn't predict the media's overwhelming response.
The toy's popularity in recent years has led to an appearance as a float in the Macy's Thanksgiving Parade in New York City, coverage on NBC's Today show, a television special on CBS, two Elf-themed sketches on NBC's Saturday Night Live in 2012 and 2013, and being named one of Amazon's top 10 toys of 2012.
"Selena and I were never suggesting our piece was research, and it is unfortunate how some media outlets have portrayed and distorted our article," said Dr. Pinto. "Some reports have gone so far as to shame us for making a mountain out of a molehill, yet, those sources ironically based their coverage on hyperbole that sensationalized the topic."
Who's the Boss? The Elf on the Shelf and the normalization of surveillance was published online by the Canadian Centre for Policy Alternatives (CCPA) in advance of a lengthier piece to appear in Our Schools/Our Selves, scheduled for January 2015. In it, Dr. Pinto and Dr. Nemorin analyze the popular children's toy using philosopher Michel Foucault's panopticon metaphor which describes a particular form of surveillance. They ask whether the toy contributes to the uncritical acceptance of increasingly intrusive (albeit whimsically packaged) modes of surveillance in the adult world.
Within days of the article's publication, Dr. Pinto was contacted by various popular media outlets not generally interested in issues of surveillance and games to discuss the piece. Media reports focused on the original article's relationship to a number of recent surveillance-related current events, including those surrounding the National Security Agency (NSA) in the United States and the high-profile hacking attack suffered by Sony Pictures – things that were not actually part of the original CCPA article.
"The viral 'elf' doesn't reflect the kind the empirical research that I do," said Dr. Pinto. "It was a one-off think piece that is as much about socialization and play, as it is about privacy." 
Dr. Pinto is heartened that their article's publication in the CCPA has led to reflexive dialogue among parents and educators. In particular, they have received positive feedback from parents and educators who feel their concerns about the toy have been validated.
Background on Dr. Pinto: Dr. Laura Elizabeth Pinto is an Assistant Professor in the Faculty of Education at the University of Ontario Institute of Technology (UOIT) in Oshawa, Ontario. She has been recognized with a Canadian Governor General's Gold Medal, the University of Windsor Odyssey Award, and the Ontario Business Educators' Hillmer Award. She has authored and co-authored 11 books, and was shortlisted for a Speaker's Book Award from the Ontario Legislature for Curriculum Reform in Ontario (University of Toronto Press, 2012).