Yik Yak talkback: should digital literacy training for teachers be mandatory?
UOIT researcher Dr. Jonathan Obar weighs in on the Yik Yak app debate
January 21, 2015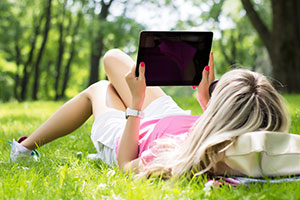 In a world of exploding social media channels, there has been plenty of chatter in recent days about the free, location-based mobile app Yik Yak. The social messaging service appears to be a big hit with kids. But many are refraining from 'upvoting' Yik Yak, including some Canadian police services which are reporting incidents of cyberbullying, pranks and even threats in schools.
A school in Ottawa was put in lockdown this week due to a gun reference in a Yik Yak message. Other communities are reporting concern among educators and parents about a flood of negative comments in the Yik Yak world.
Dr. Jonathan Obar, a digital media researcher at the University of Ontario Institute of Technology (UOIT), admits the power of the network can be intimidating to all. But he says banning or blocking services like Yik Yak is futile, because students will just move on to the next social networking service that becomes popular.
"It's 2015. I think it's about time that a broad and deep digital literacy was seen as a vital component of primary education," says, Dr. Obar, an Assistant Professor in UOIT's Faculty of Social Science and Humanities. "The solution goes beyond teaching students to use digital media appropriately. A basic understanding of digital media infrastructure and policy, about things like geolocation and mobile tracking technologies, would inform students that apps like Yik Yak only appear to be anonymous. Unfortunately, this basic fact may be misunderstood because the educators themselves have not invested in their own digital literacy training. Bottom line: teachers need to engage if they want to provide their students with the benefits of a 21st-century education."
Dr. Obar says educators must do more to open their eyes to the digital playgrounds that are the source of tremendous possibility, as well as potential problems.
"Digital media myopia is no longer an effective strategy for addressing student needs," he says. "Most social networking services raise the same challenges in terms of the standard features of interactivity and network building. In many instances, problems result because educators are not being proactive and are not providing students with adequate digital literacy training. When coupled with an inability to engage and meet students where they are, educators are often left only with the option to react."
Dr. Obar is hopeful that future digital literacy efforts will do more to teach students about the fundamental challenges and opportunities linked to technologies like Yik Yak and beyond.
Media contact
Bryan Oliver
UOIT Communications and Marketing
905.721.8668 ext. 6709
289.928.3653 (cell)
bryan.oliver@uoit.ca