FHS researcher reports benefits of educating dads about breastfeeding
February 12, 2015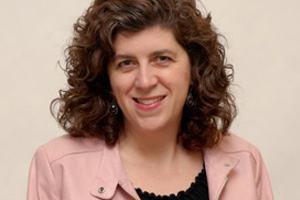 The World Health Organization recommends that infants be exclusively breastfed until six months of age. Health Canada goes as far as to encourage sustained breastfeeding for up to two years or longer with appropriate complementary feeding as an important source of nutrition, immunologic protection, growth and development for infants and toddlers.
So why is it that only about 25 per cent of women in Ontario exclusively breastfeed to the six-month mark?
Much of it may have to do with the amount of support a mother receives from her partner during those first few crucial weeks, according to report by a Health Sciences researcher at the University of Ontario Institute of Technology (UOIT).
Dr. Jennifer Abbass Dick, Assistant Professor, Faculty of Health Sciences, was the lead author of the report, entitled Coparenting Breastfeeding Support and Exclusive Breastfeeding: A Randomized Controlled Trial, which was published in the journal Pediatrics on December 1, 2014.
The study split new mothers and their partners into two groups:
A regular group that received standard in-hospital breastfeeding support, plus any other help they sought in the community.
A co-parenting group, where both partners received usual care plus:

An in-hospital discussion with a breastfeeding specialist delivered to both mothers and fathers.
Reading materials on breastfeeding and co-parenting.
Access to a study website containing information on breastfeeding and co-parenting, which included links to additional online resources.
A DVD on co-parenting and breastfeeding.
Follow-up emails after the baby turned one and three weeks old; and a phone call after two weeks to remind them about available resources and answer questions.
The study materials included information and training on how fathers can be involved and support their breastfeeding partner.
More than 95 per cent of mothers in the co-parenting group were still breastfeeding three months into the study, compared with 88 per cent of mothers in the comparison group, according to results in Pediatrics.
"Learning to breastfeed in the first few days can be challenging for mothers who are recovering from labour and birth," said Dr. Abbass Dick. "The support provided by their partners during this time can help mothers establish breastfeeding and overcome common challenges. Historically, fathers have not been not targeted in breastfeeding education and support. We found that providing education and support to both mothers and fathers can not only increase the number of babies still breastfeeding at 12 weeks of age, but also increase the amount of breastfeeding help fathers provide; fathers' breastfeeding confidence; and the satisfaction mothers have with their partners' involvement."
Dr. Abbass Dick's study was also recently featured in a Reuters Health article entitled Teaching dads about breastfeeding may help moms stick to it.